Alumni
Make Connections in Your Industry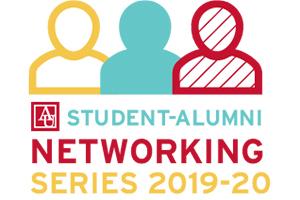 Networking receptions can be daunting and overwhelming, but when you know you have something in common with a potential connection, it gets just a bit easier. That is why the Career Center and Office of Alumni Relations have teamed up to bring you the 2019-20 Student-Alumni Networking Series. These events bring together individuals who are all passionate about similar topics. Students and alumni from all schools are welcome to attend any of these events.
This year's networking receptions include:
Creative and Media Arts | Wednesday, October 16, 9:00 – 10:30 a.m.
Food, Housing, and Financial Security | Tuesday, November 12, 6:30 – 8:00 p.m.
Marketing and Communication | Tuesday, February 4, 5:30 – 7:00 p.m.*
Data Science and Analytics | Thursday, April 2, 9:00 – 10:30 a.m. 
Registration is now open for the Creative and Media Arts reception.
Not in the DC area? Don't sweat it! While these events occur on AU's campus, we can still connect you with students, alumni, and employers in these industries around the world. Join the Alumnifire for AU platform to connect with fellow Eagles, or contact Charley Fogel to find ways to receive information about event attendees.
 *preceded by a Marketing and Communication Career Fair, 3:30 – 5:30 p.m.