Alumni
Student Involvement Brings Together #AUSweethearts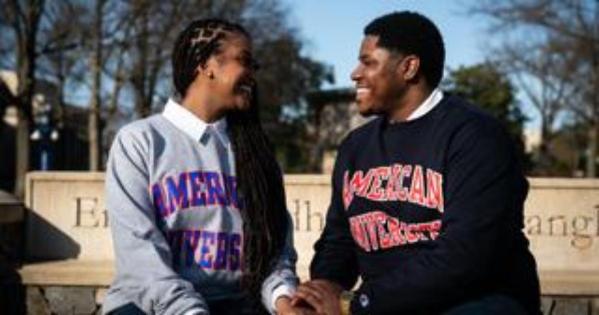 When Aquila Harper, SPA/BA '20, met Othniel Harris, SPA/BA '19, in the Mary Graydon Center in 2017, she never would have guessed that they would someday take engagement photos just steps away from where they had their first encounter. 
Now preparing for a wedding in March, the pair was first introduced after a Black Student Union meeting. Their mutual friends thought they might hit it off.
"Friends always call things before you do," Aquila said. "We both since agreed that after that first conversation, it felt like we already knew each other because we just clicked so well."
Their first date was – coincidentally – on Valentine's Day 2017 at Cava in Tenleytown. Sharing the Mediterranean cuisine, they talked about life at AU, their goals and aspirations. 
"We haven't stopped talking every day since," Aquila said. "It really set the stage for the rest of our relationship."
The perfect paradigm of an active AU couple, the two were heavily involved in the campus community during their time as students. Aquila worked as an AU ambassador, was a member of the cheer team, joined the communications committee of the School of Public Affairs' Justice Advisory Group, and mentored other students for Sister Sister, an organization and community for women of the African Diaspora. 
Meanwhile, Othniel held leadership positions in the Black Student Union, joined the Alpha Phi Alpha fraternity, was involved in student government, and was a part of the President's Council for Diversity and Inclusion. 
"The culture at AU is like everybody wants to do something," Othniel said. "Everybody's very ambitious, so you have to have someone that keeps you grounded. We kept each other grounded."
Because of their busy schedules, dates were usually between classes, visiting the Terrace Dining Hall, or studying in the library.
"Well, he studied," Aquila said. "I did more chatting."
They also love to adventure through Washington together, and during their time as students they explored monuments and visited family in the area. They took birthday trips to the African American History Museum and Bible Museum, also frequenting Georgetown's AMC theater. Aquila said her favorite memory of them as a couple at AU was at their first Founder's Ball together. 
"In college, people don't have a lot of funds, but dates don't have to be fancy, especially if you're with the right person," Othniel said.
Othniel now works in DC as a special assistant in the general counsel's office at the US Department of Commerce while Aquila teaches a seminar curriculum in diversity, equity, inclusion, and leadership in Rhode Island. Despite the distance, the two say they prioritize time together just as they did in college. 
"When you have two people who are really willing to make it work, it will work," Aquila said.
When Othniel was on the campaign trail with Cory Booker's team during the 2020 presidential primary, for instance, he once drove over an hour to surprise Aquila with an impromptu night out at the movies. 
The couple made it official in December 2020 following a trip to the restaurant they visited during Othniel's first time in Rhode Island with Aquila. They took their engagement photos on AU's campus and by the Thomas Jefferson memorial, the spot Othniel nearly asked Aquila to be his girlfriend in 2017 – until he "chickened out," he said.
That moment didn't occur between them until a bit later—in a hallway of the Mary Graydon Center where they had their first conversation.
"I don't know if it's still there…It might not be, but we went back later with a little Sharpie," Aquila said. "This might be a secret, but right underneath the wall, we wrote A+O."
Did you meet your partner while at AU? If so, we want to hear from you. Share your story on social media using the hashtag #AUSweethearts!