Alumni
Students Meet New Alumni Board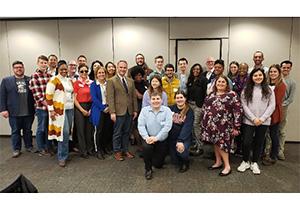 On January 31, 2020, the American University Alumni Board (AUAB) held their first meeting of the year, welcoming six inspiring new members. One of the key roles the AUAB has in the AU community is to connect graduates with current AU students and provide perspectives and insights into improving the AU experience.
Gatherings of AU students and AUAB members are beneficial to both parties. Rob Johnson, SPA/BS '81, president of the AUAB says, "I really enjoyed talking with students- they're so committed, thoughtful, and engaged that it's really energizing and motivating to learn what is on their minds and how we can support them during and after their time at AU."
New AUAB member Michael Worley, SPA/BA '12, also valued the opportunity to have lunch with AU students, saying, "It was a pleasure to speak with current students, hear about their AU experience, and share stories from when I was a student myself."
Several attending students were grateful for the opportunity to network and speak with alumni, finding out what life after graduation was like for them. "As a graduating senior, this opportunity gave me confidence…They gave me job advice and life tips that made me more comfortable in dealing with life after college." said Alexander Gulino, Kogod/BA '20. 
Students and alumni are connecting during many professional, educational, and social events, including Dinner with Alumni, Student-Alumni Networking events, and the upcoming Founders Week celebrating 127 years of AU. Be sure to check out the calendar of events to learn more about upcoming opportunities. 
Have an idea for a student-alumni event? Email Amber McClay, Assistant Director for Student-Alumni Engagement, at amcclay@american.edu.

Go Eagles!