Alumni Success Story
The Business of Increasing Reputation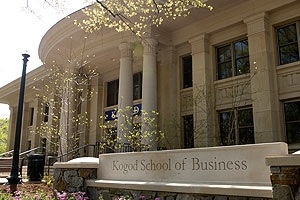 Established in 1955, the Kogod School of Business continues to educate a community of successful entrepreneurs, business owners, and leaders in strategy, finance, accounting, and marketing.  

The school is the oldest accredited business school in Washington, D.C. and annually enrolls more than 1,400 undergraduate and master's students, slightly more than AU's School of Communication and Washington College of Law (based on 2015-16 data). Now, under the leadership of Dr. John T. Delaney, Kogod celebrates the recent release of business school rankings that tout statistically significant increases in the school's graduate education reputation.

First, Bloomberg Businessweek's latest full-time MBA rankings, released on November 16, ranked Kogod's program as number 43. Dr. Wendy Attaya Bolland, associate dean of graduate programs at Kogod, says this is a "15-place increase from 2015." Bloomberg's rankings have existed since 1988 and measure the following five components to determine its final assessment: employer survey (35%), alumni survey (30%), student survey (15%), job placement rate (10%), and starting salary (10%).

Bolland also expressed pride in The Princeton Review ranking Kogod as number 9 for "Greatest Opportunity for Women." In company with Simmons (#1), Harvard University (#3), and Stanford (#7), The Princeton Review only reports the top 10 schools in each if its 11 ranking lists based on school-reported data and student surveys.  

When asked about Kogod's points of pride for its graduate programs, Bolland shared that Kogod "believe[s] in learning by doing" celebrating the school's emphasis on experiential learning and career preparedness. "Our graduate programs equip students with the business knowledge and real-world skills they need to launch or advance their career."

The Alumni Association is proud to support Kogod with recruiting alumni volunteers who encourage new students, serve as internship mentors, and hire Kogod students. To share information with your network on enrolling in a Kogod graduate program, visit http://www.american.edu/kogod/mba/mba.cfm. To volunteer with Kogod, contact Wim Taylor, director of alumni engagement, Kogod, or Pat Rabb, senior associate director of alumni admissions volunteers.