Alumni
Student-Athlete Alumna Coaches AU 5K/10K Training Program Virtually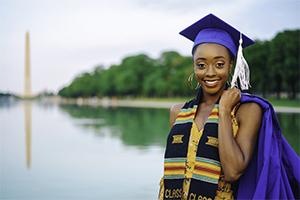 "I didn't know what to expect, especially because I missed being on the track for a different purpose – training and competing," Brianna Belo, CAS/BA '18, CAS/MS '19, explains. She's speaking of preparations leading up to her first week coaching the AHealthyU faculty and staff 5K/10K training program. "As soon as the training sessions started, I was so glad I said yes! It felt like such a great way to give back to a community that gave much meaning to my life."
Brianna grew up in Philadelphia and didn't have DC or American University on her radar initially, but her mom, impressed by brochures they'd been receiving, convinced her to apply. "I got lucky and happened to visit when the cherry blossoms were in peak bloom, so DC felt super magical," she says. "Yes, the 'WONK' marketing worked on me; being an expert in your passions as well as AU's emphasis on community service and social justice really resonated. I was also impressed by the five-year BA/MS program offerings. I was sold after that first visit."
Brianna joined the Track and Field team and realized it was just what she needed. Brianna says, "My time on the team laid important foundations for my character. To this day, I parallel many of the lessons I learned through running to all other areas of my life."

Currently, Brianna works in DC for a national non-profit called HealthHIV. "Professionally, I aspire to build a career that reconciles individuals' relationships with themselves, others, and their surrounding environments," she says. "I envision building communities that create spaces for individuals to live their highest quality of life. I have such a unique opportunity at HealthHIV because I serve on multiple projects that allow this vision to play out in inventive ways." 

Current AU staff member, Leah Brennan, CAS/BS '18, CAS/MS '19, knew Brianna as a peer from the Health Promotion master's program. As a former student-athlete herself, Leah invited Brianna to coach the 5K/10K training program last year. Brianna coached the fall program and transitioned the spring program to a virtual format due to Covid-19, culminating in at-home 5K and 10K runs. Brianna emailed out weekly training, stretching, drills, and encouragement to the participants and even participated in her own at-home 10K. 
Leah reflected, "We have been so fortunate to have Bri as our coach these past two seasons. She is beyond talented and has a wealth of knowledge to share with our runners who have all expressed their appreciation for her coaching style and expertise!"