Alumni
Alumni share their virtual volunteering experiences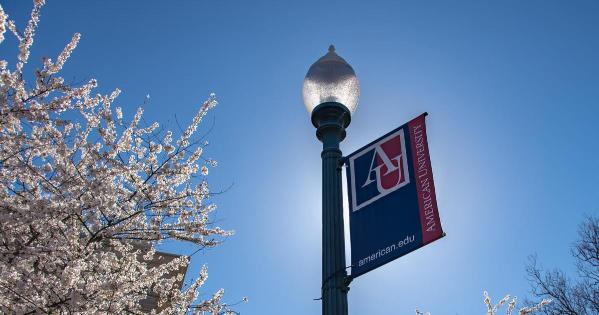 In celebration of National Volunteer Week, we spoke with AU alumni who have volunteered for the university in different capacities since the start of the pandemic. If you find their experiences compelling and want to engage yourself, please see the alumni volunteer page for a range of opportunities. 
*Answers were lightly edited for clarity and brevity.
Emily Tillett, SOC/BA '12, has conducted prospective student phone interviews and wrote letters to admitted students.
What made you want to volunteer in support of AU's recruitment efforts?
I know how hard it is to assimilate to a new college experience traditionally — but this year being unlike anything we've ever seen — I knew allowing incoming students to hear directly from AU alumni was vital to ensuring a diverse, qualified, and ambitious group of AU Eagles … I felt it was my responsibility to share a bit of my own experience with potential students — to let them know yes, this is an unpredictable time, but your experience at AU will be as fruitful as ever. 
What aspects of your AU experience did you focus on when writing letters to admitted students?
I wanted to paint a personal picture for incoming Eagles. I shared how much I enjoyed my time, the new and exciting experiences — both in the classroom and in the working world — I was able to encounter, as well as how I stayed connected to AU after so many years post-grad. I still have the same friends from campus, I met my husband the first week of freshman year (we now have 2 kids!), and just wanted to share how your time at AU will go leaps and bounds beyond the classroom. It changed my life forever. 
How do you hope to stay involved with AU in the future, both virtually and in person?
Certainly staying in the digital space allows more alumni from a variety of places around the world to give back to AU and help bring a new crop of Eagles to campus, but being able to get back on campus and doing in-person interviews with prospective students will be really exciting. There's something to be said about meeting one-on-one and face-to-face with an eager student that reminds you how much you loved AU in the first place. 
Kyler Halat-Shafer, Kogod/BS '17, is a current Los Angeles Alumni community and Kogod volunteer and former NYC Young Alumni Board member.
What inspired you to volunteer at Kogod and in what capacity do you do so?
Working with Kogod has been something I've been passionate about since my first semester of freshman year. I had a Business 1.0 class with Professor Bill Bellows. I ended up in his office hours every Thursday and he quickly became one of my mentors. This trend didn't stop in Kogod; I still speak on a regular basis with Bill, Tom Kohn, and Tim Timura, among others. Kogod became a home for me and it only felt natural to give my perspective on reimagining the business school or going to a KSB 1.0 class as a speaker. 
What do you do as a volunteer with LA's alumni community?
We've hosted virtual meetings and events. One event that I am excited about is having a screening of an Emmy-winning documentary with a Q&A session featuring Sarah Diamond, Kogod/BSBA '16, who worked on the film. 
How do AU volunteers strengthen the university community?
The more the community is connected, the more valuable the American University experience is. Being interconnected at American to different groups or across classes created an incredibly positive environment for me in particular. By volunteering and staying connected to that community, but now having it span across cities, makes me feel more grounded. I enjoy the comfort of having a friend in any city I visit, which means I want to be a part of a larger community. 
Nuha Hamid, SIS/BA '18, recently volunteered on an informational alumni panel for prospective students and engages with them on the New Eagle Connect platform, which allows them to communicate with faculty, staff, current students, alumni, and other admitted students.
How was the virtual alumni panel and would you participate in a similar in-person event? 
It was a great opportunity to reminisce about my time in college and share everything I love about AU with prospective students. I was also grateful to connect with other alumni and hear how their AU experiences were similar and different from mine. During the panel, we talked about our reasons for selecting AU, our favorite part about going to school in Washington, DC, and our internship and study abroad experiences. I am eager to participate in a similar in-person event in the future, but until then, I think the virtual events present a unique opportunity to connect with an even more diverse group of students.
Have you engaged with any students on the New Eagle Connect platform?
Yes! I connected with a prospective student from Texas. We spoke on the phone about the reasons I picked AU and all the opportunities I gained (and continue to gain) because of AU.
Josh Kaplan, CAS/BA '11, Kogod/MS '14, spoke with admitted students during last year's Summer Welcome Series and currently engages with students on the New Eagle Connect platform.
Why did you decide to start volunteering with AU?
I received so much from my time at AU — as a student, staff member, and alum — that I wanted to find a way to meaningfully give back to the university community. Assisting with recruitment and admissions is a wonderful way to do that. I remember how simultaneously exciting and intimidating it was to decide where to attend college, and it's a privilege to be able to help students navigate some of the many considerations that go into that decision and see first-hand the supportive community they'd be joining at AU.
Did virtual opportunities allow you to volunteer in ways you couldn't before COVID-19?
I did try to stay engaged with AU prior to COVID, but I recently moved from the DC area. Virtual volunteer opportunities have made it easy to remain connected. Admissions volunteer opportunities feel especially relevant in the virtual space as admitted students come from across the country and world. Of course, it also makes me look forward even more to the next opportunity I'll have to visit campus!
Have students engaged with you on the New Eagle Connect platform?
Yes, it has been great to receive notes from students with specific questions about areas of study at AU or what different opportunities after graduation may look like. I'm often surprised at how far ahead they are thinking!
How do you hope to stay involved with AU in the future, both virtually and in person?
I plan to continue as an admissions volunteer and may look to other opportunities to become more involved with the Alumni Association. I also hope to make it back to campus in the not-too-distant future (certainly when public health considerations allow). One of my favorite events each year was Campus Beautification Day in April – it's such a meaningful way to leave a mark on AU's campus arboretum. I've set a personal goal of attending Campus Beautification Day 2022 if I am able!