Student Success Story
AU Student Receives Commission into Navy JAG Corps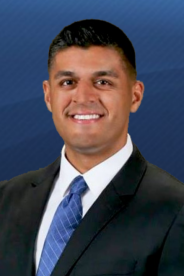 One of American University's own Washington College of Law students recently got the news he's been hoping for since he was young. Yawar Iqbal, a second-year law student, was selected into the student program for the U.S. Navy Judge Advocate General's (JAG) Corps and will be commissioned this spring.

After his commissioning, Yawar will go into in-active duty for the remainder of his time in law school. Upon completion of his degree and the bar exam in 2018, he will be placed on active duty. Yawar says of the news, "The military has been a dream of mine since I was a kid. When I got [the appointment], it was surreal. I feel it's my calling, my destiny."

Yawar recognizes that the U.S. Navy JAG Corps appointment is a prestigious honor for a law student. He encourages those interested in following this path to begin making connections and getting the necessary experience as soon as possible. He explains, "For anyone who wants to apply, you have to want it for years and be committed."

In preparation for his application, Yawar completed legal intern- and extern-ships with the U.S. Navy JAG Corps and The Veterans Consortium, respectively. Through these roles, he demonstrated his commitment to the military and his passion for service, advocating on behalf of the organizations and providing legal advice.

Yawar attributes his desire to serve in the U.S. military to his parents' story. Originally from Maryland himself, Yawar's parents came to the United States from Pakistan when his mother was 25 and his father was 32. He recalls seeing his parents working hard in a new country when he was young to become the successful people they are today. Reflecting on these memories, Yawar explains, "I admire how my parents came to the U.S. and they were given so many opportunities to succeed." It's the opportunities that his parents received that led him to want to serve. "I knew it was my duty to serve," he says.