Alumni Success Story
Producer-Director Adam Friedman Discusses Documentary Featuring Meryl Streep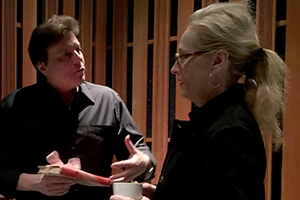 "I like to say it was like painting the Mona Lisa without the smile." That's how producer-director Adam Friedman, SOC/BA '79, describes his latest film –before Meryl Streep signed on. "For four months, I had a movie I couldn't proceed on too much because I didn't have my narrator in place," Friedman says. 
In February, Friedman says, he got very lucky when his sister, a New York newscaster, somehow got a rough cut of the movie in front of Streep. "I got an email from Meryl's assistant saying 'hey, Meryl would love to do your movie. She thinks it's great,'" he says. And, the rest, as they say, is history.  
Friedman, owner of production company Vertical Ascent, is wrapping up work on the documentary called "Shout Gladi Gladi." It's a film about one woman's drive to help save African mothers suffering from fistula. That woman, Scottish philanthropist Ann Gloag, a former nurse turned businesswoman, now runs medical facilities in three African countries.
"We recorded her at nine o'clock in the morning on Saturday, the day before the Oscars," Friedman says of Streep. "That's how cool she was." Having booked a studio for six hours to do the voiceover, Friedman says, "she was in and out of there in 56 minutes…She was amazing." 
Not everything went so quickly, of course. The project began with a visit to Scotland to discuss it with Gloag. Then came trips to Malawi, Kenya, and Sierra Leone, where Friedman and his crews filmed what he calls an "immense" amount of footage. Friedman says they visited some "horrific" slums during their time in Sierra Leone, and he believes his was the last crew filming in the country before the Ebola outbreak. 
A lot of time was spent working on the film before the first cut was finished in September. Still, one key piece was missing. Enter Meryl Streep. "Obviously she changes the movie completely because of the way she reads. We were all just blown away," Friedman says. "Before we had a movie about fistula…a subject that most people will turn away from." But, he says, with Streep on board, he thinks the movie will reach "an incredibly large and wide swath of humanity." 
Friedman says he wouldn't be where he is today without AU. "I'm in this business because of AU and particularly because of my mentor, Larry Kirkman…I think differently than most producer-directors, and it's all because of what I learned at AU," he says.
Friedman tells a story about "lying his way into ABC" during his time as a student and working on an Emmy-nominated documentary. "But I didn't want to do documentaries then," he says. "There was a new thing happening at the time called music videos." Music video interested Friedman, so he wrote one for Darryl Hall and John Oates. They liked it and hired him to do more. He continued working in the industry, producing videos for the Rolling Stones and other musical acts. 
Since then, Friedman has gone on to do lots of different kinds of work, including a recent television show about the CIA for National Geographic. "AU gave me a lot of opportunities to play with a lot of toys, and you need that," he says. 
Friedman remains involved with AU, serving as a mentor for the School of Communication and as a volunteer leader with the Entertainment and Media Alumni Alliance. "What AU taught me was a really strong notion that there's nothing you can't do if you really want to," he says. "I met the best people in the world there." 
Friedman says he thinks what's happening with film online is going to change everything about his business so that's where he will turn his focus next. 
And, he says, "Obviously we're aiming for the Oscars next year."