Alumni Success Story
Alumnus Examines Systematic
Indoctrination in New Book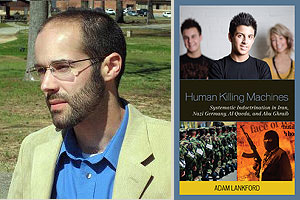 It seems only fitting that Adam Lankford, SPA/MS '07, SPA/PhD '08, would name Crime and Punishment his favorite book. Lankford majored in English literature as an undergraduate before receiving his postgraduate degrees in Justice, Law, and Society. For him, there's little difference between the two fields.
People often assume that his love of books and his subsequent academic work in criminal justice meant he had a sudden change of plans. "But my core interests have always remained constant," says Lankford. "I've always been curious about understanding people and why they do what they do."
Lankford, currently an assistant professor of criminal justice at the University of Alabama, exercises his curiosity regularly, always on the lookout for new classwork and research topics.
"When I have that quintessential light-bulb moment," he says, "No matter where I am or what I'm doing, I immediately drop everything and scramble to write it all down."
His favorite books meld the abstract with the concrete, posing conceptual questions that are answered with plausible, real-life scenarios, and Lankford adopts this approach in his own work, recently giving his students a tangible sense of justice with a field trip to the FBI Birmingham Field Office.
In his new book, Human Killing Machines: Systematic Indoctrination in Iran, Nazi Germany, Al Qaeda, and Abu Ghraib, Lankford explores his own abstract question: why do people become violent killing machines? How are everyday people transformed into those who freely kill in the name of a particular regime, government, or way of life? He sheds some light on the answers by examining some real-world examples with serious ramifications.
"It's critical that U.S. leaders understand the root of the problem and the best ways to counteract it," Lankford says. "Human Killing Machines offers scientific evidence for how we should engage Iran and Al Qaeda right now and how we can combat systematic indoctrination in the future."
His findings seem particularly poignant now, at a time of heightened concern about how to best address extremist groups in the United States and around the world. But Lankford didn't always know his destiny would be in academia. After receiving his bachelor's degree, he strongly considered becoming a Baltimore County, Md. police officer, but ultimately realized that his talents might be best spent elsewhere.
"I took the exam and did the sit ups, the timed run, the bench press, trigger pull, and flexibility tests," Lankford recalls. But in the end, he says, he realized that "AU's graduate program would be a better fit for my strengths and would help me to make a broader contribution to the public welfare."