Alumni Success Story
Abu Dhabi-Based Alumna's New Novel Boasts Global Appeal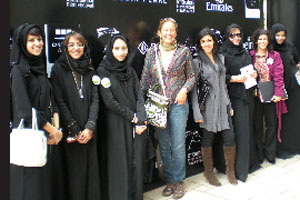 A love of storytelling runs through the myriad threads of Alia Yunis's career. The seasoned journalist, filmmaker, and professor now adds a debut novel, The Night Counter, to her list of accomplishments.
The book has already garnered widespread praise since its release in July 2009, selected as a "hot summer read" by the Chicago Tribune and hailed as a "poignant, hilarious first novel" by the Boston Globe.
Yunis, SOC/MA '91, spoke with AU recently after concluding a national, eight-city book tour in D.C. at the popular U street hotspot Busboys and Poets - delighted that her last stop brought her back to her old college town. The final reading, drew a nice turnout – as well as some familiar faces, including her advisor, SOC professor John Douglass. "It really was nice to be back," she says.
The ability to capture an audience and convey the subtleties of each character, place, and plot have been key to both Yunis's success as an author and The Night Counter itself. The richly woven tale's protagonist is a matriarch with nine days left to share her last stories and sort out the happy, messy details of her own life.
Geography, as much as things and people, figure largely in Yunis' work, and she draws some of the inspiration for her characters from the settings in which they live. The Midwest native has called a number of places home, from the Twin Cities to Athens and Beirut – to name just a few – and each place has left a distinct impression on her. Location represents more than just an address "So many of the little nuances of a place and our reactions to it in part define us," she says.
"I always hope that my work either informs or entertains – and sometimes both," says the professor of film and television at Zayed University in Abu Dhabi. Her classroom is just one of many spaces in which creativity is unleashed and ideas are exchanged. The worlds of film, writing, and teaching frequently overlap for Yunis, who also attends a number film festivals and media events – but that sort of boundless sphere suits her just fine. In the same way that her career draws from a variety of fields, her work also reflects an expansive, interconnected quality, and Yunis is happy when she can present her films and writing in a way that allows her audience to "perhaps expand their picture of something."
Her career has been marked by a similar series of nuances and reactions, many of them unraveling in the serendipitous manner of a beloved story, where every turn eventually bears its purpose. She arrived in Washington, D.C., via Qatar, after a stint there working in the fast-paced world of news led her to realize her love of work in longer formats. She came to AU in 1990 to study documentary film. Then, in 1992, Yunis applied for a writing award and internship from Warner Brothers to do sitcom work in Los Angeles at the urging of her advisor, John Douglass – and won. The experience offered a glimpse into another world, and although Yunis didn't warm to comedy writing in the end, she did take an important lesson from a fellow award winner: "Focus on the writing."
Now, the new novelist says the best chapters of her own story have yet to be written. Inspired by both the culture of Latin America and writings of Isabel Allende and Gabriel Garcia Marquez, she hopes to travel to Spain and South America someday.
"We'll see where the wind takes me," she says.