Alumni Success Story
Alumnus Changa Bell Wants to Bring Yoga to Baltimore's Male Youth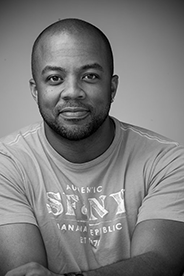 Many individuals enjoy yoga for its transformative power in the lives of those afflicted by personal strife. Changa Bell, Kogod/BS '07, found this to be true through a journey of self-discovery, and he hopes to spread the magic of yoga to underprivileged young Black men of Baltimore. 
As a student, Changa thrived in the Kogod School of Business's international marketing program, becoming a McNair scholar, and was in the process of pursuing a PhD in Washington, DC. However, with new nuptials and other stresses, Changa turned to travel, visited countries such as Prague and Chile, and embraced the power of yoga.

Upon his return to the states, Changa became a yoga instructor, which he saw as a ministry. "I wanted to combat the dominant image of yoga as being solely for women," he says, "so when I was approached with the opportunity to teach yoga to autistic children, I was very eager." 
After his time with his class, he was approached about instructing a yoga class for foster youth. Although he had never interacted with that demographic, he found that he loved the work and took notice of the influx of young Black men in the foster care system. "For these young Black men, I could see the program was influential," Changa says. Changa knew there was far more he could do to help close the opportunity gap for Baltimore's youth. This is how the organization the Black Male Yoga Initiative was created.
As a member of the organization known as Black Male Engagement, Changa was able to start the BMYI with a grant of $10,000. He intends to use these funds, in addition to money donated through crowdfunding, to establish The Om Space, a safe space dedicated to the health, emotional development, and care of young Black men in the outskirts of Baltimore. Changa says, "I'm working with Freddie Gray before he's #FreddieGray. I'm working with boys who the world might judge and write off…I want to have a sustainable farm where I can offer boarding for programs and offer certification for them to become registered yoga teachers. Hopefully, they can go back and teach their communities to become in tune with the benefits of yoga."
Changa says that he owes a lot to American University, proclaiming, "I found my wife in SIS!" He hopes he can use what he learned on campus to power his skills and inspire a community in need.