Alumni Success Story
Ana M. Polanco, Esq., SPA/BA '98: Lawyer by Nurture, Leader by Nature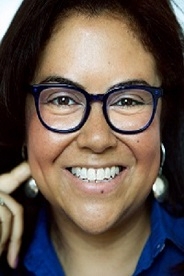 Since her arrival in the mid '90s, Ana M. Polanco, Esq. SPA/BA '98, has made her American University experience unique inspiring peers and loved ones to join her in a journey of discovering self-worth and exploring possibilities. Between Ana's international travels, AU caught up with her to find out why she remains so connected to her fellow Aguilas (Eagles). 
AU: As a native New Yorker, what brought you to American University as a student in the '90s? 
Ana: I didn't have resources to visit college campuses, so I watched recruitment videos at my college prep high school. Compared to New York, I thought American University was one of the most beautiful and different places I had ever seen. The video talked about a globally diverse university. As an American and a Latina of Colombian descent, living between both worlds, I wanted to be a part of a global experience, and I was deeply interested in the accuracy of US–Latin American history and relations.
AU: How has AU changed your life? 
Ana: I began to shape my personal values at AU. When I arrived on campus, I was a naive 17-year-old from a small town in New York, living in a mostly South American and Caribbean neighborhood. I understood my community and the world through our shared experience. AU gave me the space to meet people from all over the world, travel, explore religions, engage in public service and deconstruct political history. These experiences were defining moments in my personal and professional identity.
AU: What motivated you to become an entrepreneur and create your companies, e.g. Si Tú Quieres, LLC?
Ana: I wanted to lead and support collaborative cross-sector programs that are committed to social change. I also wanted to begin developing relationships with other sectors who were committed to drive social change through innovative ways. To do that, I realized I had to take a leap of faith and work outside of traditional institutions for a while. I started a private organizational coaching practice to engage in authentic relationship building across multiple sectors. A year into my consulting practice, I was buzzing with fresh ideas to advance social causes.
I have engaged in personal development and leadership trainings all over the world. I was usually the only Latina or one of fewer than five women of color in the room. In September 2014, I co-founded Si Tú Quieres, an authentic leadership company that supports every day Latinas as they step courageously into transformative spaces.
AU: Tell us more about your connection to the Latino Alumni Alliance. You helped recreate this alumni group and start the LAA Book Award? Why give so much time and energy to AU? 
Ana: During my time at AU, I was privileged to witness and learn from the transformation and growth of my peers. I formed lasting relationships with people around me. They supported and accepted me as I grew into the person I am today. I hope the AU Latino Alumni Alliance becomes a space to continue cultivating those friendships and celebrating the accomplishments of all these amazing Latinos and Latin American alumni who are giving back in important ways.
The book award is Latino alumni's way of giving back directly to Latino students and building its financial capital and social credibility with the larger alumni community. While the education sector figures out how to make advanced education affordable in the US, I believe the book award can play a role to help students with those daily costs often forgotten.

AU: If you had 5 words to leave a lasting impression, what would they be?
Ana: Failure –best teacher of success.
Ana continues to give back to AU students and will serve as keynote speaker on October 8, 2015 for Alumni in the KNOW, AU's distinguished alumni speaker series. To register for this exciting morning event, visit our event page here.