Alumni Success Story
Gierman '09 Returns to High School as AU Admissions Volunteer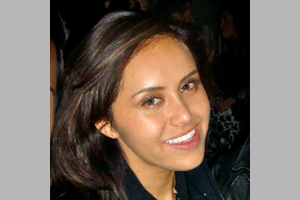 One October evening, Andrea "Andy" Gierman, KSB/BSBA '09, walked through the doors of Redondo Union High School in California, thinking of what she would say to students that night. Gierman wasn't there to reminisce; she returned to her alma mater as a member of the AU Alumni Admissions Volunteers program to share her experience with prospective students. 
A sales representative for The Same Guy, an easy-to-wear basics clothing line that embodies the "Americana vintage-vibe" and can be found in flagship stores on Melrose Ave. in LA, SoHo in New York City, and at other select boutiques across the country, although Gierman is making her mark as a business professional, she hasn't forgotten AU. Her coworkers tease her about her love for AU. "It seems I'm always talking about my AU experiences at the office," she says.
Her desire to volunteer for admissions initiatives as an alumna came from several on-campus experiences when she was an undergrad. While a member of Kogod's 1955 Club, she assisted with admissions activities for prospective business students. She also spoke at Freshman Day activities when admitted students visited campus to make their enrollment decisions. In fact, she remains in touch with two AU students from California whom she met during the recruitment process. 
Gierman's experience of traveling to D.C. to pursue her undergraduate degree is only one of the conversations she has with prospective students who are considering AU among their college choices. She recounts wanting to challenge herself by trying something new, far from her California home, and tells high school students that choosing a college at a distance can be both a scary and exciting leap. She stresses to students the importance of getting involved. "There are so many interests that students can explore at AU – internships, volunteering, study abroad – any student can find an outlet within campus organizations."
Gierman only joined the Alumni Admissions Volunteers program earlier this fall, but already, she has participated in several recruitment events in the Los Angeles area and looks forward to doing more.   
"You can't relive college, but you can recap your experience and offer advice to prospective students," she notes. Thanks to volunteers like Gierman, AU has an expanded alumni presence at recruitment activities, which engages additional prospective students to look at American in closer, more meaningful way.