Alumni Success Story
SPA Alumnus Takes Student Leadership to the National Level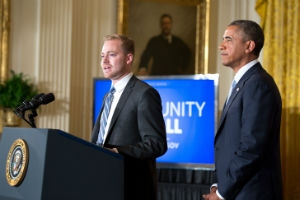 From AU Student Government president to executive director and cofounder of the National Campus Leadership Council, Andy MacCracken, SPA/BA '11, SPA/MA '14, has shown a deep commitment to addressing the most pressing concerns facing this generation's college students. 
At NCLC, Andy and his staff empower student body presidents and their teams to collaborate and tackle major issues like sexual assault, student load debt, student veterans' affairs, and access to mental health services. NCLC connects these groups to other campuses, policymakers, and the media while providing technical assistance and professional skills trainings to ensure they are effectively lobbying for change. 
Right now, NCLC is running campus outreach for the White House's "It's On Us" campaign to stop campus sexual assaults. Working with approximately 300 campuses, NCLC's role is to support the work students are already doing around education and prevention. 
Speaking of the White House, last year Andy had the once-in-a-lifetime opportunity to introduce President Obama ahead of the president's remarks about executive actions that would support federal student loan borrowers. He also visited the White House as a panelist for the "It's On Us" campaign. 
Andy served as AU's Student Government president during his junior year. Following, he was involved with different efforts to facilitate greater collaboration among student leaders regionally and nationally. As some of those efforts began to merge into each other, Andy decided it was time to turn this side project into a full-time career.  
"A lot of what I learned in the SPA Leadership Program, Campaign Management Institute, and Public Affairs Advocacy Institute shaped my approach to starting my organization. Each of those programs are top notch in developing critical thinking and mission-focused strategy on top of hands-on experience," Andy says. 
NCLC's role in the higher education community continues to grow, as it hosts national student leader summits in collaboration with the White House. Students today face many issues, from employment gaps to soaring student debt, and Andy says NCLC is committed to opening dialogue and access between student leaders and policymakers.