Alumni Profile
Alumna Ann Stevens, CAS/BA '67, SOC/MA '70, Co-Authors Diplomatic Gardens Book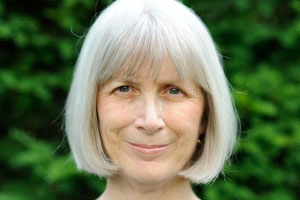 Inspired by a trip to the Danish Embassy during the EU Open Houses day in 2007, Ann Stevens, CAS/BA '67, SOC/MA '70, and Giles Kelly decided to write a book highlighting the gardens in 12 of the embassies in Washington, D.C. The book, Diplomatic Gardens of Washington, is the second for Ann and Giles, a husband and wife who live in Washington, D.C.
Ann transferred to American University after living abroad in Germany for two years. She attended AU while living off-campus, and in an effort to become more immersed in the life of the university, she joined Delta Gamma sorority. Ann went on to pursue two degrees at AU, to serve as a staff member for 11 years, and even to serve as an adjunct faculty member. 
One of the things Ann loved about working at AU was the stimulating academic environment. "My work as associate director of university relations was to report on and promote the interesting programs, professors, speakers, and special events going on at AU. In my undergraduate and graduate studies there, I was more narrowly focused, and thus not as aware of the many other interesting aspects of AU's academic life. As a student, I didn't have the opportunities as I did as a staff member to meet King Hussein of Jordan, to photograph Italian filmmaker Lina Wertmuller, and to write a story on Orlando Letelier, the exiled Chilean defense minister who was teaching in SIS and was assassinated in D.C."
Ann and Giles worked on Diplomatic Gardens of Washington for about three years prior to publication. A great deal of effort went into selecting embassies and building relationships with the ambassadors and their staffs, as well as working around schedules, determining when the light was right for certain shots, and deciding when the flowers would be at their best. Ann still speaks highly of the ambassadors and the embassies with whom they worked. 
"I think it's nice that embassies are making it possible for Washingtonians to visit. It has helped integrate the embassies more into the Washington cultural scene in a very nice way. For instance, the British Rose Garden is exceptionally beautiful, and now, on the European Union Embassies' Open House day, visitors get a chance to see this private garden," says Ann.
What is up next for Ann and Giles is still to be determined. They have ideas for another book, but for now, they are enjoying the success of their book and having fun introducing it to various clubs and groups in the Washington area.