Alumni Profile
SOC Alumna Gets a Running Start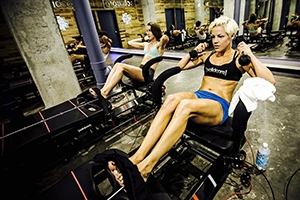 Whether it is going for a mid-day run or teaching a class at Solidcore, working up a sweat has led to success for Anne Mahlum, SOC/MA '03. As founder of Solidcore boutique fitness studios, Back on My Feet, a national nonprofit serving the homeless community, as well as noted motivational speaker, Anne is nothing if not entrepreneurial.
A native of Bismarck, North Dakota, Anne was drawn to graduate school in Washington, DC for its politics, and to American University for its reputation. As a student in AU's one year Master of Public Communication program, Anne was very diligent and took advantage of all of the opportunities available to her on and off campus. While taking a full course load, she balanced work as an intern at Widmeyer Communications and as a server at a local restaurant. 
In November 2013, Anne followed her passion for health, fitness, and its community to launch Solidcore. Today, she serves as the company's founder and chief motivational officer, empowering a community of more than 10,000 members. Just a few miles from American University's campus, Solidcore offers rigorous classes that encourage participants to push themselves to be their best physically. Anne says, "Solidcore is not just a workout. We are on a serious mission to help you create the strongest version of yourself inside and out."
As Anne continues to push others to be their best selves, her own success seems to have only just begun. Anne plans to make Solidcore a national brand with hopes of inspiring individuals across the country. In addition to Washington, DC, Solidcore has locations in Virginia, Maryland, and Minneapolis.
Prior to opening Solidcore in 2007 at 26 years old, Anne's commitment to service led her to start a non-profit, Back on My Feet. With a mission of serving those facing homelessness, her vision was to help as many people as possible and empower them to redefine themselves so they could redefine their lives. Anne found that by using running as a tool, participants could gain the endurance to meet and exceed their goals as well as promote a healthy lifestyle both mentally and physically. Under Anne's leadership, Back on My Feet has enabled 1,942 members to obtain employment and 1,350 to obtain housing. 
For American University students looking to get a running start like Anne, she encourages them to take big risks, ask themselves what the worst thing that can happen is, and to not be afraid to try something different.