Alumni Success Story
AU Alumnus Teaches War Veterans to 'Armor Down'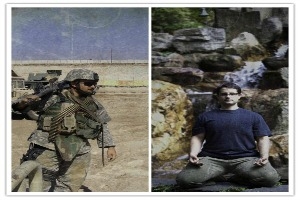 Despite the bitter arguments and ever widening division over politics in America, immense gratitude and pride felt towards our soldiers and veterans abounds.  Americans are quick to acknowledge when a hero is in their midst, and though some disagreements may divide, appreciation for the men and women devoting their lives in defense of our country signifies a formidable unity.

However, the dark underside of a heroic return home can manifest itself in the physical, mental, and spiritual ailments plaguing veterans after months or years living in a vastly different environment.  AU alumnus and Iraqi war veteran, Ben King, SPA/BA '03, CAS/MA '10, realized that his own post-war trauma, suffering, and eventual healing process could provide an opportunity to help other veterans in similar situations.
After serving in Iraq with the US Army as a Psychological Operations Sergeant, Ben returned safely home, yet found himself still living with the military mindset of heightened alertness and anxiety despite the presence of supportive friends and family. As a result of his time in Iraq, Ben suffered from insomnia, frequent break-downs with an inability to control his emotions, and a mental state of constant hyper vigilance. Thus, Armor Down was established, with its stated mission being to provide "…a portal through which military and non-military organizations can help our military service members make a successful transition back to civilian life."
Through yoga, meditation, and similar practices, Armor Down offers veterans a transition from the military mindset to a state of mental and physical stability. As Ben explains, "the military teaches us to ignore our body and any kind of physical discomfort – that dealing with this discomfort builds a strong will. Though this is helpful in the short term, it is not applicable for long-term post-military and post-war health and stability."  
The defining characteristic of Armor Down is its ability to present these exercises through a military mentality, appealing to the familiar background and lifestyle of soldiers and allowing veterans to use the techniques in a typical gym setting.
Ben says his own experience as a soldier and veteran, combined with his broad AU education, is what truly drives the success of Armor Down. For many veterans, it is difficult to find or recreate the sense of community experienced while in the field, so Ben is striving to fulfill that need by creating community and healing through alternative techniques.  With the use of a simple QR code attached to a flyer, men and women in need immediately find a mindful meditation practice, along with a list of organizations that offer other forms of help and healing to veterans.
Additionally, the AU Sigma Alpha Mu fraternity brothers have volunteered with many Armor Down events and initiatives honoring fallen soldiers, including a Mindful Memorial Day at Arlington Cemetery this past May. The dedication and support of these AU students is helping to increase and spread the message of Armor Down to the rest of the country. Ben hopes that with assistance like theirs, his organization will assist thousands of veterans in achieving the mental, physical, and spiritual peace they deserve.