Alumni Profile
Granddaughter of a slave, Justice Audrey Collins to receive Beacon of Justice Award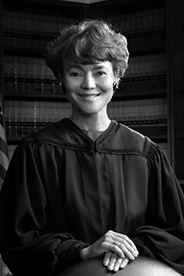 As a youth, Associate Justice of the California Board of Appeals Audrey B. Collins, SPA/MA '69, would have never guessed that she would forge a history-making career. An American University School of Public Affairs graduate, Collins became the first African-American woman to serve as Head Deputy, Assistant Bureau Director, and Assistant District Attorney after joining the Los Angeles District Attorney's Office in 1978.

In 1994, President Bill Clinton appointed Collins to the United States District Court for the Central District of California, and she served as Chief Judge of the Central District from 2009 to 2012. During that time, Collins became the first judge to declare a portion of the 9/11-inspired Patriot Act unconstitutional based on language that she found to be in conflict with the First Amendment. In 2014, she was appointed to the California Court of Appeal, where she remains today.

Over the years, Collins has been acknowledged for her many contributions to public service and social equality. On April 5, the Friends of Los Angeles County Law Library will present her with the 2017 Beacon of Justice Award, recognizing her exceptional commitment to expanding access to quality legal services for low-income people and communities.

Collins's story is unique in that not only did she come of age during the Civil Rights Movement, but she was also the granddaughter of a slave. To be only two generations removed from slavery is "very unusual for someone my age, now 71," says Collins. She was born in Chester, Pa. in 1945. But both her grandfather and father married later in life, which explains her proximity to slavery. After being freed sometime in the 1860s, her grandfather, Furman Lawrence Brodie, worked his way through school, eventually becoming a minister and teacher. "He didn't learn to read until he was 16," says Collins.

Collins was first inspired to pursue a career in law by her family's strong tradition of public service. Her father was a dentist who built a community-based practice in Chester, and her mother was a teacher. Collins describes her mother as a "brilliant woman who graduated from Howard University at the age of 20." Collins is convinced that had there been an opportunity, her mother would have become a lawyer. But growing up in Norfolk, Va., her mother experienced segregation and overt racism, something Collins encountered only when she visited. By choosing to raise Collins in Yeadon, Pa., her parents were able to shield her from that and ensure that she had the best educational opportunities possible.

Collins's interest in law became more apparent during her undergraduate studies in political science at Howard University. While she was not involved in the Civil Rights Movement directly, it was then that she recognized the need for equitable legal representation for African-Americans, especially protesters who were being detained by police. "It occurred to me at that time that the most fascinating and meaningful thing for me to do was to go to law school," says Collins. "I think, especially being at Howard, it was clear that lawyers were there on the front lines of what was happening in the Civil Rights Movement."

After completing her MA in government and public administration at American University, Collins went on to obtain a JD from UCLA in 1977, throwing her legal career into full swing. Collins would have never predicted that she would be where she is today. "I'm not a fan of the five-year plan," she says. "You don't have to have your whole life worked out. I think if you find something you love to do, something you're enthusiastic about doing, and do well, it will reveal itself."