Alumni Success Story
From Psych PhD to CEO, Dacanay Says Key to Success is Experimentation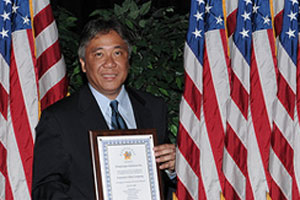 Bob Dacanay ran from rats and ended up running his own successful IT company.
An allergy to his daily work companions, laboratory rats, forced Dacanay, CAS/BA '79; CAS/MA '83; CAS/PHD '86, to give up a career in experimental psychology. He left his research on artificial intelligence at the U.S. Army Research Institute behind and switched gears with ease to a second career in information technology.
"I tried gloves, masks, many things…but it just got in the way and became too difficult," Dacanay says, who published numerous research papers as a psychologist and is proud to have two distinct and successful careers. The move from studying artificial intelligence, the use of computer science to create machines that can think independently, to plain technology seemed natural.
But it wasn't that simple either. For the first three years he ran his business out of his bedroom. He calls "starting a business from scratch," as his greatest professional accomplishment, though he is equally proud of his PhD degree. "My education at AU was invaluable."
Today, Dacanay is president and CEO of Primescape Solutions in Arlington, VA, an IT consulting company for the federal government, with contracts with the FAA, the Department of Treasury, and the U.S. Customs and Border Protection.   
Since 1998, Dacanay has led Primscape Solutions' growth from just two employees to more than 100 and has made the Inc. 500/5000 for four consecutive years in their annual ranking of the fastest-growing private companies in America. He didn't go to the first award dinner in 2005 because he didn't think it was a big deal—he worked instead.
"Maybe that's why I made it the second time," he laughs of attending the Inc. ceremony when Primescape Solutions won a second time, but it was more than just a good time. He said it was an amazing learning experience, where top business leaders spoke on how to recover during tough economic times.
Business remains steady since it comes from federal contracts, says Dacanay. He credits the company's success to his employees and believes his job as a leader is to "provide an environment for success to happen." He believes his client's success rests on his employees and their core values, which he cites as integrity, mutual respect, teamwork, creativity, and innovation.
"My mother's advice to me growing up was 'Go see the world, take risks, and follow your passion,'" he says, attributing her wisdom to his success. "I've made a lot of mistakes, but the mistakes have made me better," he notes.
In fact, if he could go back in time to when he was first making a name for himself, he would "make mistakes more often and earlier" to learn as much possible about what works and speed up the path to success.  
A smart scientist, after all, analyzes data before deciding on the next experiment.