Alumni Success Story
Archivist-Alum Uncovers History, Motives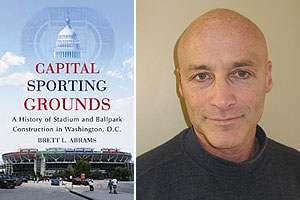 Brett Abrams, CAS/PhD '00, likes to dig deep for the answers to his questions.
An archivist at the National Archives and Records Administration and the author of two books, Hollywood Bohemians: Transgressive Sexuality and the Selling of the Movieland Dream and Capital Sporting Grounds: A History of Stadium and Ballpark Construction in Washington, D.C., Abrams looks for the deeper motives behind the actions of some of the country's biggest power players.
As evidenced by the scope of his research, Abrams' interests are somewhat diverse, but he notes that both books are critical looks at urban environments.
"Both are about how cities have tried to use cultural things—whether it be sports or movies—to promote themselves as entities," he says.
He came to AU in 1993 after studying public history at Northeastern University in Boston. He felt that Boston's opportunities to continue research in the field were slim, so he opted to come to D.C. for AU's strong cultural history program. He found his classes and professors here "inspiring" and "stimulating," and he loved his ability to take classes in other departments, like anthropology, art, and literature.
Abrams tries to eke two things from each subject he tackles: How did it perceive itself, and how did others perceive it? While he goes into each project with a clear question in mind, he lets his findings steer the direction of the final project.
Hollywood Bohemians, a look into how Hollywood developed as an oasis of free sexuality, began as Abrams' history dissertation at AU. While the original piece was highly academic, Abrams saw its pop culture potential.
"It was a sexy topic, given it was about images of sexuality and Hollywood," he says.
Abrams spent six years developing, shopping, and then editing the book after graduation. After taking on Hollywood, Abrams localized his focus. Though not a D.C. native, he quickly fell in love with the city.
Abrams' second book, Capital Sporting Grounds, is set in his adopted hometown. It explores the motives behind proposed and realized sports complexes in the District, which Abrams began considering during the construction of Nationals Park.
Abrams' next project, too, stays close to home. He finds the revival of Seventh Street downtown exciting, and he's currently researching the changing face of one of the neighborhood's gems, the Smithsonian American Art Museum.