Alumni Profile
Building a Techo in the City of Tango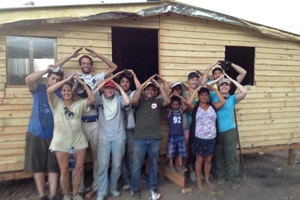 Buenos Aires is a city of beautiful architecture, delicious food, and endless tango. It is also a city full of American University alumni, as Caitlin McCann, SIS/BA '07, knows all too well.  

Braving grueling heat and no shade, Caitlin and other AU alumni (her husband Martin Hermida, SIS/BA '07; Lisa Overman, SIS/MA '04; and Tanya Brothen, SIS/MA '08) spent two days building a shelter for a family in need with the organization TECHO, which has been building emergency shelters in 19 Latin American countries and working with communities to end poverty since 1997.  

"Manual labor brings you together," says Caitlin. She is not joking. From heat stroke to drinking gallons of water to sleeping overnight in a nearby school, the group shared a genuine bonding experience. At the end, she says, it was worth it to see the "faces of the family light up" when they were handed keys to their first home. The young home owners, expecting their second child, "…now have a place of their own and are making plans," according to Caitlin.  

It is not surprising that Caitlin and her fellow Eagles ended up living in another hemisphere. Caitlin met her husband at American University, and she moved to his native Argentina in 2012. By then living abroad was not just a way of life, it was an addiction. After spending her junior year in Paris, Auckland, and traveling in Asia, Caitlin moved to Spain. In fact, she was first drawn to American University for its international character and the many study abroad opportunities it offered.  

Caitlin is not alone. Alumni are everywhere around the world, including in Buenos Aires. Meeting fellow alumni at an event last year changed Caitlin's whole experience in the city. Suddenly, she says, "it felt like a piece of home was in Argentina with me." "We just clicked," she says of time spent with the group of alumni.  

To other people considering an international move, Caitlin recommends two things: have a sense of humor and don't sweat the small stuff. In a new country it is important to take things in stride, she says, especially in Latin America. And, of course, keep an eye out for AU alumni; chances are they are closer than you'd think.