Alumni Success Story
Glass Ceiling Smasher Credits
Cupid with Career Start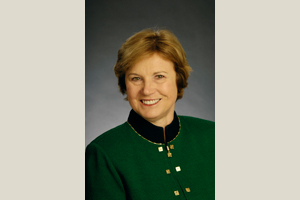 Cari Dominguez, SIS/BA '71, SIS/MA '77, envisioned a career as a foreign service officer when she pursued her studies at SIS. But when she married a fellow AU student Alberto Dominguez and decided to remain stateside, Dominguez shifted her professional focus to the fight for fairness and equality in the workplace.
"Cupid got in the way," Dominguez says of her professional detour, which has brought her recognition in the field of equal opportunity employment. She is considered the architect of the U.S. Labor Department's "Glass Ceiling Initiative," which was designed to remove invisible barriers from the workplace.
She considers her SIS experience to be "the thread that ties it all together."
After graduation in 1977, Dominguez began her U.S. government career at the Department of Labor, where she worked in the office of contract compliance. She moved to the Bank of America, where she served as a VP and manager overseeing implementation of the Equal Employment Opportunity Act and Affirmative Action for five years, until she returned to the Labor Department in 1983, serving as the assistant secretary for employment standards administration and director of the Office of Federal Contract Compliance Programs until 1993.
Dominguez became the nation's 12th chair of the U.S. Equal Employment Opportunity Commission, serving from 2001 – 2006 and shares her pride at having attained many "firsts" she brought to her role there – the first Hispanic, the first working mother, and the first appointee to have workforce management background.
Dominguez currently serves on the boards of three international organizations and is writing a book on leadership. She continues to focus on the issues of equal opportunity in employment, noting that the demographics of today's workplace echo the demographics of the SIS student body during her years here.
"Before globalization was in our lexicon, SIS offered students exposure to the world on a daily basis," she says. "This is how SIS was all along."