Alumni Success Story
National Politics Editor Analyzes
Washington from Every Angle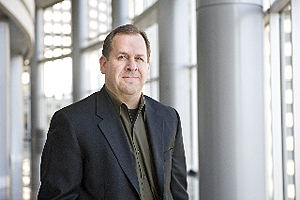 Charles Mahtesian, WCL/JD '01, is fascinated by politics – not the backstage dealing cynically associated with Washington, but the forces that make politicians tick.
After two decades of writing about politics, Mahtesian says that most politicians "are not driven by greed or runaway ambition, and their actions can usually be explained by the kinds of places they come from."
Mahtesian came to Washington in the mid-1980s from Havertown, Pa., to study politics at Catholic University. Like thousands of other students, he interned on the Capitol Hill in the House and in the Senate.
While clipping papers at the Congressional Quarterly, his first job after college, Mahtesian saw how politicians "operated in their native habitats" which broke down the political process into "human terms."
His first professional break was becoming a national correspondent for Governing magazine, which sent him all over the country writing feature stories about urban politics, governors, and state legislatures.
Mahtesian noticed one striking similarity about his smartest sources: many of them had law degrees. "I realized I needed to have more rigorous training and better analytical skills," he says of his decision to enter the evening division of the Washington College of Law at AU.
Going to school part-time for four years while keeping up his busy writing career was "the most grueling experience," Mahtesian says. But it was worth it. "I am a better journalist now," he says. "I think differently and more strategically, and that helps me as a manager."
After eight years at Governing, Mahtesian went on to the National Journal's Almanac of American Politics, the biennial tome often called "the bible of American politics," where he worked as the editor for five years before arriving at Politico.
Launched in 2007, www.Politico.com is Web site devoted to covering all things Washington. As national politics editor, Mahtesian still writes stories in addition to overseeing politics and election coverage.
Though he does not consider himself a pundit, Mahtesian often appears as an analyst on television and radio programs, and writes for a variety of newspapers and magazines.
As much as he relishes the competitive nature of his work, Mahtesian says the best part of his day is being with his "two sweet, happy kids."