Alumni Success Story
From Undocumented to Unstoppable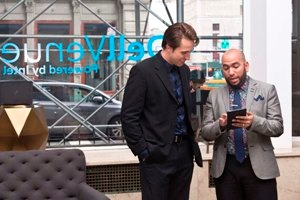 At age six, Daniel Alejandro Leon Davis, SIS/BA '13, came to the United States from Venezuela with his mother to visit siblings in Miami. Instead of returning home, Daniel and his mother stayed in the U.S. permanently, though they were undocumented. Despite what seemed to be insurmountable odds, Daniel persevered. He received AU's prestigious Abdul Aziz Said Phi Epsilon Pi Scholarship, graduated Magna Cum Laude, and won the Fletcher Scholar Award for exemplifying integrity and selflessness in citizenship while achieving academically.
As an AU student, Daniel was the first undocumented intern for the Clinton Global Initiative, part of President Bill Clinton's philanthropic foundation. Now, he is chief of staff to Michael Skolnik who is a civil rights activist, political director to hip-hop pioneer Russell Simmons, and president of GlobalGrind.com.
"My mother lived the American dream," Daniel says. Although his mother can't speak English, she put on a brave face and gave her children everything she could, working as many as three jobs and eventually becoming the top interior designer for Mercedes Homes.
It is clear Daniel's mother is his inspiration and champion. Looking back at his childhood, he recognizes the signs that she struggled because they were undocumented. He remembers nights when his mother would go without food; her constant apprehension around police officers (even mall security guards) for fear of deportation; and frequent visits to her lawyer's office. Undocumented immigrants often live in such secrecy and fear, it is not uncommon for them to hide their status from their children, which is why Daniel did not learn he was undocumented until his senior year of high school.
Daniel dreamed of attending an Ivy League school, but the country's economic crisis derailed those plans. His mother could no longer afford the tuition, and his undocumented status disqualified him from financial aid and scholarships, so he enrolled at Seminole State College and earned his associate's degree. Many prestigious four-year schools accepted Daniel's transfer application but would not allow him to attend because he was undocumented.
When he called American University and revealed his status, his admissions counselor said, "Oh, you're a dreamer! We have a way of putting you into the system," and enrolled him despite his being undocumented. Although he again faced financial obstacles, he would not be deterred this time.
"I gave up on my dream once. I'm not giving up on my dream again. I don't care what I have to do. I'm going to American University," Daniel told himself. He called 95 scholarship organizations and asked if any of them would accept an application from an undocumented student; only three said yes: the Jack Kent Cooke Foundation, Coca Cola, and Phi Theta Kappa.
At his graduation ceremony, the president of Seminole State announced to Daniel, his mother, and the entire school that Daniel won all three scholarships he applied for, which totaled more than $160,000. He says, "That's the day my life changed. That's the day that everything was worth it, the day that I live for every single day."
Still, life was not easy. The scholarships did not take effect until after his first semester at AU, so Daniel couldn't afford housing and stayed with friends instead. In October 2011, he "came out" as undocumented by wearing a sign announcing his status on LGBTQ National Coming Out Day. He told his story at an event that evening. After that, he says, "Strangers would come up to me on campus and say, 'Hey, did you eat today? Do you want me to swipe you in to TDR?' I felt what community truly meant at AU and that people really stand for what they believe in there."
Unlike other students preparing for graduation, Daniel knew he wouldn't be able to find a paying job because he was undocumented. Still, he wanted to use his personal experience and success in creating social change on a larger scale. "I introduced myself to Michael Skolnik [at an event] using the networking skills I learned in one of my classes at American," Daniel says. Through a friend, he got a meeting with Michael and worked on some projects for him. Michael was so impressed with Daniel's work that he immediately hired him as his chief of staff.
It was a shock. "I figured I'd be an intern," Daniel says. Instead of interning, Daniel runs a team charged with harnessing celebrity power, especially on social media, to create social change. He has worked with Alicia Keys, P. Diddy, Common, and countless others.
Daniel also finds time to give back to the American University community as a volunteer with the Latino Alumni Alliance and as a social media ambassador. He volunteers because, "AU gave me a lot, a lot, a lot! From Dr. [Fanta] Aw making sure I had housing, to people making sure I had scholarships, professors spending so much time with me and caring for me. … My service is a way to pay back all the ways people helped me at AU. And if I can help that next undocumented student who goes to AU, or help that next Latino student, I want to do that. For me, volunteering means knowing I get to be a part of a community that lasts forever outside of campus."
Daniel is now married and is an applicant for permanent residency in the U.S.; the Washington College of Law legal clinic is assisting him with his application process.
Daniel's AU education was possible thanks in large part to donor-funded scholarships including the Barbara Bohn Wright Memorial Scholarship, the Annette Langdon Scholar-Activist Award, and the Abdul Aziz Said Phi Epsilon Pi Scholarship. Learn more about how donations to AU make a difference in students' lives.