Alumni Profile
From Economist and Professor to Congress, Dave Brat, CAS/PhD '95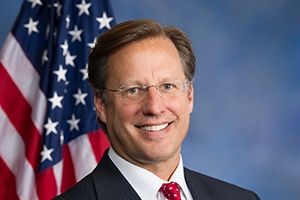 As a doctoral candidate in economics at American University, Dave Brat, CAS/PhD '95, took full advantage of the school's location in Washington, D.C. by attending lectures, working for the Army and the World Bank, and even teaching tennis lessons to D.C. notables like Senator Ted Kennedy's wife, Vicki. He initially chose AU because of his love of the liberal arts and the Renaissance environment that AU cultivates. "It was the best place in the world to get a graduate education," Brat says. "For the first time in my academic career, I was in classes with people from all over the world."
Now, as a freshman congressman in the U.S. House of Representatives, Brat (R-Va.), has the opportunity to put his AU degree to work as the only economist in Congress. His interest in the intersection of economics and ethics drives his plan to focus on addressing the insolvency of some of the United States' largest social programs, such as Social Security and Medicare. One only has to speak with him for a few minutes to hear his passion about and commitment to this issue come through. 
Congressman Brat also plans to use his background as an economist and as a university professor to focus on educating the electorate on the economic concepts at work in the laws being proposed and enacted. He expects to devote much of his time and energy to serving as the "economic watchdog" of Congress, teaching Americans what the actions of Congress are doing to their liberty, wallets, and the economy. 
Fresh off the campaign trail and just weeks into his term, Congressman Brat says that the best part of the job thus far is the people. "The schedule is wearying," he says, "but sitting in a room full of constituents or meeting with new colleagues makes it great. Congress is full of 'people' people, and that refreshes you." 
Looking ahead, Congressman Brat is excited about meeting with constituents and groups who want to engage with him. With his academic background, he is deeply interested in welcoming ideas from all over the spectrum and working with both sides of the aisle to do the important work with which he and his colleagues are charged.

When asked what advice he had for fellow AU Eagles interested in following in his footsteps, Congressman Brat said, "Follow the Plato plan. Don't aim directly for politics. First, pursue math and philosophy and find a way to follow your passions while building a foundation in the quantitative fields. Then, use that foundation to turn to politics later in your career." Of course, he'd still love to have some AU interns in his office!