Alumni Profile
David Argo, CAS/PhD '83, Celebrates Historic Dissertation Submission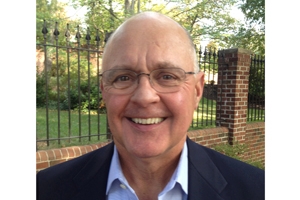 Thirty years ago, David Argo, CAS/PhD '83, made American University history. On a warm July evening in 1983, David became the first AU student to successfully print a dissertation from a computer.

"Before the computer, it was a very time consuming process. Students used typewriters, and since all the footnotes had to be on the page in which they were noted, one typo would not only mess up the page, but potentially the whole chapter. It could literally take a month to write up a thesis," says David.

Determined to beat this inefficiency, David turned to the computer—which in 1983 was a gigantic mainframe in the Mary Graydon Center. Despite a warning from the dean of the College of Arts and Sciences not to waste time with the computer, David was determined. After receiving an edited draft of his thesis, with over 200 corrections, he immediately went to the mainframe, and implemented the changes. With the hired help of a computer science major, he printed out his report—all 575 pages on the impact of socioeconomic conditions on religiosity. He submitted the changes the very next day.

"The dean of the College of Arts and Sciences, who had discouraged me from electronically printing my thesis, was amazed that I had made all these changes within 24 hours. He then congratulated me on being the first AU student to have successfully printed such a dissertation, which was very exciting," remarks David.

Shortly afterwards, David was awarded his PhD in sociology. He then went on to become an adjunct professor at American University, teaching sociology. However, a calling to touch more people led David into pastoral work. After leading several smaller congregations, David became the head pastor of Capitol Hill United Methodist Church. Located only a few blocks from the United States Capitol building, Congressmen, Senators, and other VIPs were regular attendees. Yet the church was also located near what was then the largest housing project in Washington. "The church was very diverse. We had people from all parts of society, and this presented its own set of challenges." says David.

Under David's tenure, the church successfully reached out to young professionals and expanded its size. After spending a cold winter night sleeping in the street, David pioneered a program where parishioners and "houseless neighbors" as they were referred to by the congregation, would sit down and share a meal every Sunday. As a result of the connection, several parishioners bought a home in the neighborhood as a place for the homeless to stay while getting back on their feet. Since then, numerous individuals have been able to get jobs and put their lives back in order. In addition, David led a number of congressional chiefs of staff in a study group entitled "Faith and Politics," where participants explored the intersection of their faiths and careers.

After David's success at Capitol Hill UMC, he was promoted to district superintendent of the Baltimore/Washington United Methodist Conference, and was responsible for supervising 69 churches. In that role, David confronted stagnating church growth, implementing an ambitious set of metrics and holding staff accountable. By the end of his tenure, the entire district saw across-the-board improvement, in church attendance, membership rates, community outreach, and financial viability.

David says his time at AU was instrumental to the success he achieved throughout his career. "So often in the church, we get sloppy, and being able to develop and articulate thought in a rationale way really helped my career. What I learned [at AU] sharpened my thought process," he says.

Today David is semi-retired, sitting on the board of Sibley Hospital and managing the Argo Group, the consulting group that he founded. He splits his time between his home near the AU campus and Maine. Above all, he enjoys spending time with his four grandchildren, including a 10-year-old determined to come to AU. His advice for current students: "have fun."