Alumni Profile
Alumni Spotlight: Dshawna Bernard, SPA/BA '11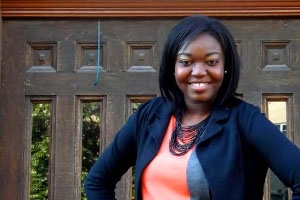 American University's relationship with the Congressional Black Caucus Foundation and its Emerging Leaders Internship Program has blossomed in recent years thanks to the work of alumna Dshawna Bernard, SPA/BA '11. Recently, we caught up with Dshawna to learn more about why she chose American University, and why she continues her strong connection with her alma mater.

AU: Hi, Dshawna. Can you share why you originally choose to attend American University?
Dshawna: I am originally from Trinidad and Tobago and graduated with a BA in political science and minor in international studies. I chose American University because of its excellent reputation in both the fields of political science and international studies. As a non-American student pursuing studies overseas, it was also imperative for me to attend an institution that was international student-friendly and also had a presence on the global stage. I found all of these key things at American University.

AU: And what led you to eventually work for CBCF?
Dshawna: After first getting exposed to CBC through the Emerging Leaders Internship Program, I was able to fully understand and value the extensive and important work that this organization does. The Congressional Black Caucus Foundation is at the forefront of implementing change in the lives of people in the community. As a proud product of this organization, when the opportunity became open to be a consultant on the Avoice Project, I immediately accepted. The mission CBCF embodies pairs perfectly with my own personal and career goals. I absolutely love working on the Avoice Project and here.

AU: Why do you feel it is important to keep AU involved with CBCF?  
Dshawna: I think it's very important for American University to build a relationship with CBCF. After I completed the internship, we had four other interns from AU accepted into this highly competitive internship. This speaks volumes of not only what AU produces, but also it suggests a need for further conversations to happen on a higher level. Both of these intuitions are right here in D.C., and I think it's time that a more formal relationship is formed. On campus I was known for my passion towards diversifying AU and establishing and tracking how we do that. I think this relationship would be an excellent start!

AU: What advice would you give to other alumni who haven't decided whether they want to advocate or volunteer for AU as you do?
Dshawna: I would encourage my fellow alumni to remember and understand graduating from an institution such as AU is quite an achievement and an experience that belongs to each graduate for life. Advocating for the university is essential, especially if one wishes to see change to provide an even better experience for those to come.