Alumni Success Story
SIS Alumnus has Passion for Tackling Our Nation's Nuclear Energy Challenges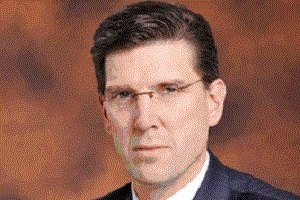 After studying at the Universite Catholoque De L'Ouest, in Angers, France through a program under the Louisiana Board of Education and watching his father serve as a Naval Reserve Chaplain, Edward McGinnis, SIS/MA '92, knew he wanted to work in international relations and national security.
Having served as the U.S. Department of Energy's Deputy Assistant Secretary for International Nuclear Energy Policy and Cooperation since 2007, McGinnis' responsibilities include oversight of the department's international civil nuclear energy activities, including policy development and implementation, leading U.S. bilateral civil nuclear energy policy, and technical collaborations with other countries.
"As a DOE DAS, I work closely with the White House, U.S. State Department, U.S. Department of Commerce, and other agencies and organizations to support and implement U.S. international nuclear-related policies," McGinnis said. "In my role, a priority is advancing the president's civil nuclear energy-related policies, particularly where my activities can help advance U.S. energy, nonproliferation, safety, security, economic and environmental security objectives."
Serving as the DAS for International Energy and Policy Cooperation, McGinnis typically travels internationally more than 10 times a year. While overseas, a typical day might include meeting bilaterally with foreign governments on specific nuclear energy matters, delivering remarks at a nuclear conference, meeting with U.S. embassy officials, meetings with local U.S. industry executives, tours of nuclear facilities, speaking at a university, or participating in press conferences and other media activities.
"I enjoy taking on challenges others have not yet been able to fully tackle and trying to advance our objectives by overcoming barriers and seizing opportunities for success," McGinnis said. "That's just how I am wired and is a major reason why I love what I am doing now--given the tremendous challenges and opportunities that are before our nation and the world regarding nuclear energy."
His career gives McGinnis the opportunity to help tackle some the greatest energy and nuclear security and safety challenges facing the U.S. and the world. However, he says that one of the best aspects of his role is meeting and working with a tremendous variety of people from universities, interest groups, executives, laboratory experts, and financial professionals.
"AU was my first introduction to D.C. and the world from a government and global political perspective. I will always be grateful for that," he said.