Alumni Success Story
Emerging as a Young Leader in the Arts
Adam Natale, CAS/BA '03, leveraged his interdisciplinary studies at AU to become an emerging player in the arts as SVA Theatre's Director.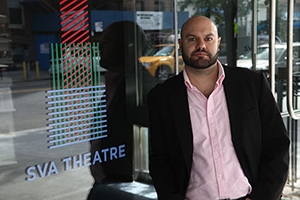 As the director of the School of Visual Arts' SVA Theatre in the Chelsea neighborhood of New York, Adam Natale, CAS/BA '03, has had some incredible opportunities – from hosting events featuring Oprah and Beyonce in 2013, to moderating a Q&A with actor David Duchovny in 2014, and finishing the year with a special 25th anniversary screening of Batman. 
Adam's path to being SVA Theatre's director started while he was a student at American University. At AU, he created his own interdisciplinary major – a bachelor's in directing for theatre and film – by combining the fields of visual media, psychology, and theatre. He credits his "three terrific advisors" for helping him reach his potential: Caleen Jennings, professor of performing arts; Leonard Steinhorn, professor of communication; and Anthony Ahrens, professor of psychology. "I was able to take many other classes; I wasn't strictly confined to theatre and film. I was incorporating other courses from a wide range of programs, all of which I feel like gave me a really well-rounded experience," he says. "I think that is really important in this line of work."
Adam remembers a particularly seminal experience as a member of AU's performing arts group. "My first semester on campus I got to stage-manage and assistant direct a production, which was the unheard of for a freshman," he recalls. This unique opportunity reinforced a passion for directing. "I was always interested in this line of work. I performed as an actor in high school, but I didn't want to live the life of an actor. Then I realized that there are also starving directors." 
In his final year at American, Adam interned at the National Endowment of the Arts, leading him into what would become his first job in the field of arts administration. He says, "Without the internship, I wouldn't be on the path that I am on now. I wouldn't have been able to interact with all the different professionals in the field." His success prompted an invitation to come back to AU to speak at the Emerging Arts Leaders Symposium in 2009, on a panel called "Challenges of Being a Young Leader." He also served in a leadership role for Americans for the Arts, a national arts advocacy organization, which connects him to the AU and D.C. arts scene. 
Adam works with groups both inside and outside the community to bring a variety of productions to SVA Theatre's stage. He organizes everything from lectures and conferences to student events and film screenings. He especially loves the ability to bring some artistic programming to the theatre, like the inaugural alumni film and animation festival called "After School Special," which he launched in September.
Adam hopes to continue his success as SVA Theatre's director by "becoming a player in the New York art scene" and continuing to have diverse programmatic events that attract people from all walks of life. To see what is next on his schedule, check out SVA Theatre's calendar.