Capital Campaign Success Story
Board Chairman, SPA/BA '68, Gives
$2 Million to SOC and SIS Buildings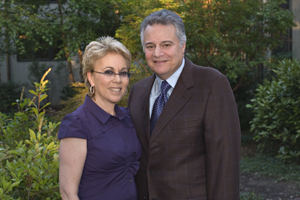 Gary Abramson, SPA/BA '68, wants to make sure American University reaches its full potential.
Three years into his tenure as chairman of the Board of Trustees, the prominent Washington businessman has taken his role as one of AU's top leaders to the next level by making a $1 million gift to the new School of International building and a $1 million gift to the new School of Communication building.
"I want to help get both of these projects going. The SIS building is under construction, and we want to get enough money to start the SOC building soon," says Abramson.
"It's very important to show AU is moving forward."
A loyal and generous friend to AU with his wife, Pennie, the Abramson Family Foundation last donated $1 million to name the Abramson Family Recital Hall in the Katzen Arts Center.  
"It is clear to me and others that Gary and Pennie understand the strategic importance of both these buildings to our future, and they have provided the kind of leadership that we hope inspires others," says President Neil Kerwin, SPA/BA '71.
Specifically, the gifts will name the new courtyard on the east side of the McKinley Building facing the side of the Mary Graydon Center, to be called the Abramson Family Plaza, and the Abramson Family Café in the SIS's new Davenport Lounge.
"SIS is one of the most famous of the AU schools, and this is a very impressive new building with all of its energy-saving features designed by William McDonough, the 'dean of green building architecture,' says Abramson.
The Tower Companies, Abramson's family real estate development business, has won awards for its own eco-friendly buildings.
Though it may seem SIS has been getting most of the press of its new building's sustainable design, Abramson expects the McKinley Building, to be renovated as SOC's new home, will garner just as much excitement.
"I like the way they've combined the old and the new," he says.
"They've preserved the history of the old building but put a modern addition on it with all the new technological bells and whistles."