Alumni Profile
First Generation SIS Alumna Inspired by Parents' Work Ethic, Family Values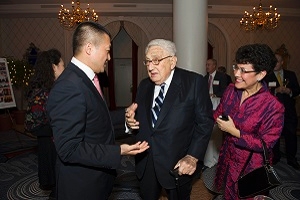 Gloria González-Micklin, SIS/BA '80, born in Bello, Colombia, immigrated with her family to New Holland, Pa. in 1972. Her parents, textile factory workers, made extreme sacrifices to provide a better life for their six children. Without their guidance and sacrifice, González-Micklin says, she would not have achieved the professional and academic milestones in her life.
"Who would have known that the daughter of two working class immigrants would be the individual charged with arranging major events requiring high security protocol for China's leadership and their U.S. cabinet counterparts," González-Micklin says. 
As Director of Programs for the US-China Business Council (USCBC), a non-partisan, non-profit organization of American companies involved in trade and investment with China, Gonzalez-Micklin executes major meetings and high security events for key stakeholders in U.S.-China relations, including China's ranking officials, their American counterparts, senior U.S. business executives, and scholars during their visits to Washington, D.C. and New York City. In addition, González-Micklin manages her department and annual gala fundraiser. 
"I launched the USCBC Gala in 1998 to mark the Council's 25th anniversary," González-Micklin says. "This past December, as we celebrated our 40th anniversary, we honored Dr. Henry Kissinger for his many contributions to contemporary U.S.-China relations over the past four decades." 
González-Micklin earned her master's degree at the University of Texas, Austin and lived in China from 1992 to 1996 accumulating experiences and memories to last a lifetime but also gaining cross-cultural skills that proved invaluable in her subsequent career in Washington, DC. 
She has had the privilege of meeting every Chinese leader (President and Premier) since Zhu Rongji, including current leader Xi Jinping. 
Her work on key events for visiting Chinese officials regularly puts her in direct contact with China's most senior diplomatic representatives, and with key figures in the U.S. Congress, the State, Commerce, Treasury departments, and other agencies engaged in US-China bilateral relations. "It has been fascinating to be part of these historic events, which must be flawlessly executed," González-Micklin says. "It is also rewarding to know that, in a small way, I am contributing to the ongoing and expanding dialogue between the two largest economies in the world."

González-Micklin holds a special place in her heart for American University and the School of International Service. "I give of my time by participating in SIS alumni chapter events here in Washington as well as helping the next generation of international relations leaders by advising and mentoring students." In 2001, she received a recognition for her contributions to the AU community at large. She is also active with the Hopkins-Nanjing Center where she established the Jim Townsend and Sandy Perry Memorial Endowment Fellowship in 2003.