Alumni Profile
Hassina Sherjan Returns to AU for Tea Talk about Educating Afghanistan's Girls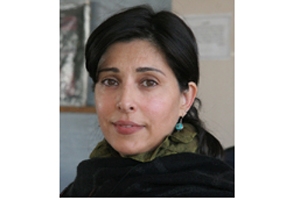 Hassina Sherjan moved to the U.S. as a young woman after her family left Afghanistan just before the Russian invasion, in 1978. She went back to her native country for the first time in 1995. "That's what changed my life," she says. Sherjan, who studied at AU's School of International Service in the late '90s, says that's when she first realized that education was not available to every Afghan.
Soon after, Sherjan founded Aid Afghanistan for Education, which provides educational opportunities for young Afghans. In 1999, Sherjan returned to Afghanistan again, this time establishing five underground educational programs for girls because the Taliban leadership did not allow girls to go to school. 
Sherjan continues to pursue educational opportunities for all Afghans, saying her intention was not to have programs only for girls. Unfortunately, her programs, funded largely by grants from USAID, have not been able to pay 266 teachers for the past six months. "Teachers are still teaching because they can't imagine closing the schools," she says. "There's nothing in the formal education system for these people."
As for her time at AU, Sherjan says, "Nobody really knew anything about Afghanistan when I came to AU." She worked with former dean of the School of International Service, Dr. Louis Goodman, to organize seminars and lectures around Afghani government for SIS students. "It is fulfilling to know that I may have contributed something and helped students become aware of Afghanistan," Sherjan says. 
Sherjan now works with college students across the country and says, "We can't fight this insurgency with war so we're organizing a whole movement by students to fight the insurgency through education. If we succeed in Afghanistan, we can move around the whole world."  
Sherjan will be back on campus for an Honors Tea Talk, "Afghanistan and the Path to Peace through Education," on Tuesday, November 12 from 3:30-5 p.m. in SIS Founders Room.
Featured will be three experts on Afghanistan, including Hassina Sherjan; Dr. Hakim Asher, visiting scholar at AU's Washington College of Law Center for Human Rights and Humanitarian Law and former executive director of the Government Media and Information Center in the Office of the President of the Islamic Republic of Afghanistan; and Eileen O'Connor, the Public Diplomacy Deputy Assistant Secretary for South Central Asia and Advisor to the Special Representative for Afghanistan and Pakistan, U.S. Department of State, and a former network news correspondent in Afghanistan.

The event is co-sponsored by the School of Communication, the School of Education, the School of International Service, the School of Public Affairs, the Washington College of Law Center for Human Rights and Humanitarian Law, the Center for Diversity and Inclusion, the Kay Spiritual Life Center, and the University Library. A reception will follow the speakers' remarks.