Alumni Success Story
AU Alumna Recalls Powerful Katrina Experience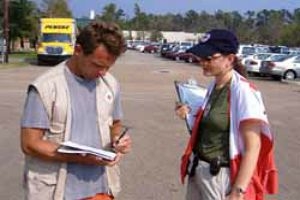 The news today is filled with images of treacherous weather patterns all across the country—from raging wildfires in the west to blizzards, floods, and storms in the east. Ten years ago, however, it was a single, violent storm covering the news outlets, a storm now infamously referred to as Hurricane Katrina. Whether you watched the horror unfold on television, responded to the national call for help, or actually lived amidst the chaos, the devastation Katrina caused will forever remain etched within the nation's memory. This month, AU is honoring the anniversary by remembering and sharing the firsthand experiences of alumna Rebecca Callahan, SOC/MA '91, an American Red Cross public affairs liaison.
As a communications student in both her undergraduate studies at Virginia Commonwealth University and graduate studies at AU, Rebecca's venture at the Red Cross began with a simple volunteer role updating the organization's database. However, due to her strong communications background, she found herself at a disaster relief call center the week of August 23, 2005, warning anxious Gulf Coast residents to immediately head inland. As the date of the hurricane's landfall drew closer so did the intensity of calls and questions from residents frantically wondering where to go, what to do, and how to leave—even as many said, their instinct was to remain in their own homes.
While Rebecca worked with a range of people on the ground—from parents to children to soldiers and reporters—her skills were truly put to the test. However, she soon found herself particularly concerned with the psychological trauma and effects on the younger children, specifically the six- to 12-year-olds.
One young girl's struggle to process the unfolding events inspired Rebecca to communicate and connect. Rebecca provided the girl with a job, instructing the 10-year-old to stand at one of the Baton Rouge River Center's entrances with a large bottle of medical grade sanitizer, ensuring that everyone entering or exiting was thoroughly disinfected. The job soon became too large for one person so, under Rebecca's direction, the young girl led a team of purpose-seeking children to help guard and sanitize multiple entrances of the Center. As Rebecca explained, "People need that sense of empowerment…if you have all of your control taken away, one of the most therapeutic things is to give them a sense of control over something, even if it's in the smallest, most unexpected ways. For kids, that was easy. For everyone else, that was hard."
This story is only a sampling of the profound experiences Rebecca endured during her time volunteering with the Red Cross in New Orleans. From assisting in the search for family members, to counseling children, to being thrust in front of the cameras on behalf of the Red Cross, it is apparent how vital Rebecca's communications skills were to her survival and success in such treacherous environments.
Today, Rebecca continues her passion for public and strategic communications as a public affairs strategist at Booz Allen Hamilton. She also continues work with the Red Cross as a public affairs liaison for the National Capital and Greater New York regions. Her time at AU prepared her for a much greater purpose, and she says that purpose lives on in the memory of those she aided during one of the most tumultuous disasters in recent American history.