Alumni Success Story
Ian Spaulding Works to Improve Conditions in Chinese Factories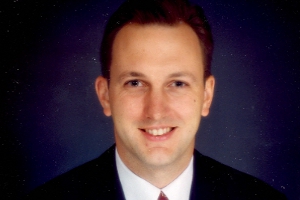 Every day is a new adventure in problem solving for Ian Spaulding, SPA/BA '94. As the managing director of INFACT Global Partners, Spaulding works to create innovative strategies for factories in China. Focusing on corporate social responsibility, INFACT operates four different offices with the goal of improving working conditions in factories producing for some of today's best-selling products.
Working with approximately 50 customers, mostly U.S.- or European-based toy or apparel companies, Spaulding looks for ways to increase productivity from the ground level. After its founding in 2007, INFACT began training factory managers and workers to improve their productivity and effectively handle workplace issues.

According to Spaulding, the most fulfilling part of running INFACT is working to improve conditions in an area of extreme growth. "Coming up with innovative ideas for factories to involve complicated issues such as excessive working hours and turnover rates," is Spaulding's favorite part of the job. "In China, in the manufacturing world, it's the center of the universe."

Spaulding started the company in large part because there are not a lot of people in this field who roll up their sleeves and help factory managers improve factory conditions.

"We actually get the opportunity to help make factories better," said Spaulding "It's fun to be in a position to help these factories that are struggling."

Spaulding entered the consulting field shortly after receiving his master's degree, as he hoped to build upon his love of international travel and curiosity of corporate social responsibility. He credits his experiences at American University for sparking his interest in the field.

After studying abroad in London while attending AU, Spaulding discovered his interest in living and working abroad, which shaped his decision to start a company in China. Through internships and work experience, Spaulding says he gained knowledge of how to excel in the workplace while still at AU.
In addition to shaping his interests, Spaulding believes that his education at American gave him the foundation he needed to be successful in business.

"At AU, I learned how to learn and I think I've continued with that in my career path as I continue to learn each day and work hard and try to have an impact," said Spaulding. "We're all lifelong learners, and I think AU gave me the skills and the interest to continue lifelong learning and continue to integrate that into my work."