Alumni Success Story
AU Alum Jack Norris Credits His Success with General Electric to AU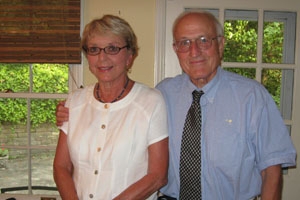 Jack Norris, Kogod/MBA, '63, has spent his life dedicating skills and knowledge to serve this country's military and contribute to academic publications and fortune 500 companies like General Electric.

Before attending American University, Norris served in the United States Army (2S Classification). He was granted an early release from the army and decided he wanted to further his education. AU was among his top choices because he wanted to spend more time educating himself on issues that he valued. "I felt like I could contribute research for generations to utilize," he says. 
As a student, he was active in Pi Gamma Mu, a national honor society for excellence in the social sciences. Time at AU allowed Norris to foster relationships with professors and peers while gaining the knowledge to reach his goals.

After graduating from AU, Norris left for New York City in hopes of working for General Electric. After much persistence, he enrolled in General Electric's training program, and it was there that he began "The Negro Market Study." The study, according to Norris, is "a reflection of how American businesses looked at African-Americans and how they could market to that community effectively."
The purpose of the study was monitoring the shopping habits of black people and developing better ways of marketing GE products to black consumers, Norris said. Over the years, Norris became the third largest producer in the country for General Electric's Science Department.
Norris decided to contact his alma mater and share his findings in negro studies. After speaking with the AU librarian at the time, Norris' study is now housed in the AU library for students and faculty alike.
"AU taught me market research," says Norris. "None of my success, like producing [the study] would have happened had I not been enrolled." 
Norris credits much of his success to his academic career and the professors that he had while attending AU. When asked what his advice to current and future students is, Norris says, "Every day is important. Learn as much as you can so that you're prepared to face life's obstacles. Take advantage of what is offered today so you're prepared for your next step in life."