Alumni Success Story
On the Air: Jackie Judd Brings
the News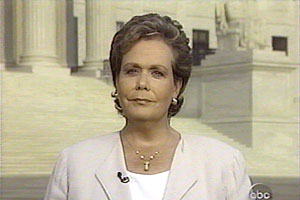 Jackie Judd was one of "the nerdy kids" who knew by the time she was 15 what she wanted to do with her life: broadcast journalism. She first reported over the airwaves at Woodlawn High School in Baltimore, where the PA system was used to broadcast student-produced programming.
For the next three decades, as she moved from radio to television reporting and garnered numerous professional awards, Judd says her biggest accomplishment is "being viewed as a very solid, credible journalist who was a good storyteller."
Judd, SOC-CAS/BA '74, majored in broadcast journalism and political science at AU. Ed Bliss, a legendary professor at the School of Communication, was her life-long mentor. "I was lucky to be in his orbit and he taught me what it meant to be a serious journalist," she says.
As a participant in SOC's Alumni Mentor Program, Judd shares her experience with future journalists.
Bliss was instrumental in Judd landing her first job after college at the only radio station in Concord, NH. "I doubled the size of the news department," she laughs. "It was fantastic because I got to do everything: going to the police station before dawn and covering presidential candidates for the 1976 election."
After spending 13 years in radio, at NPR and CBS News, Judd was ready for her television début at ABC News, where she was a correspondent for World News Tonight with Peter Jennings, Nightline, and Good Morning America for the next 16 years.
Some of the larger stories Judd considers part of her "hit parade": the fall of Berlin Wall, the Tiananmen Square uprising, the impeachment of President Clinton, and the 2000 election recount.
In 2003, Judd was ready for a new challenge. "I'd had a very long and successful career as a reporter," she says. "I felt I had done a lot of what I had set out to do and wanted something different, but familiar." That's how she ended up as vice president and senior advisor for communications at the Kaiser Family Foundation, "the gold standard for health care research, policy, and communications."
Judd has had a broad portfolio of projects at Kaiser: from production of mini-documentaries on healthcare issues to training journalists in Russia, Ukraine, and the Caribbean on covering HIV-AIDS.
A long way from primitive PA system broadcasts, Judd brings her national network news expertise to Kaiser's global and domestic work.