Alumni Success Story
Alumnus Jake Hollander Channels a Passion for Unity in St. Louis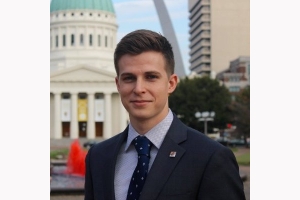 Like many people living in Washington, DC at the time, Jake Hollander, SPA/BA '13, watched the events in Ferguson, MO unfold in August 2014 and knew that something had to be done. Earlier, in the spring of 2014, the native St. Louisan had already explored ways to unify the region as a passion project. Following Ferguson, he built out a plan to help move his hometown forward. With momentum building, Jake made the tough decision to leave his job at a D.C. public affairs firm and return home to St. Louis to help bring his hometown together. 
Today, his organization St. Louis Strong is working to champion a grassroots movement with the goal of unifying the St. Louis region and streamlining how the city and county operate. Currently, there are 91 different municipalities in the St. Louis region, including 57 police districts, 43 fire protection districts, and 81 different municipal courts. Because of the extremely fragmented nature of things, there is substantial inequality and inefficiency. 
As a high school student, Jake had the political bug. When he was looking at schools, he knew that DC was the best place to be for someone with his interests, and his campus tour of American University made him feel that he was meant to be an Eagle. Excited by the climate of civic engagement fostered on campus, Jake applied to AU early decision and never looked back. 
With a double major in political science and philosophy, Jake learned early on the value of asking thoughtful questions and engaging in continuous learning. When asked what he thinks is one of the key things he carries with him from his time at AU, Jake replies, "Be humble in your thinking and always willing to admit you can do better. Success is born of mistakes and struggle. Always look for another perspective or different way to do things." 
As for what's in store for St. Louis Strong, Jake says this summer they will begin holding town hall meetings to engage the public in the creation of their proposal. He truly wants this to be a grassroots effort and feels confident that by engaging the public in the discussion, St. Louis Strong will settle on a course of action that results in unification of the region with widespread public support. However, he is not naïve in thinking this will be an easy process and knows he has a long road ahead of him. "Politicians have the most to lose with unification," he says, "so this will not be an easy task."