Alumni Profile
Alumni Offer an Unconventional Introduction to Shanghai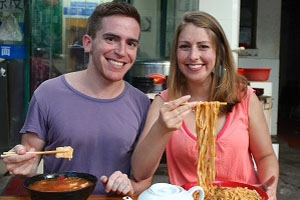 When Jamie Barys, SOC/BA '07, and Kyle Long, Kogod/BSBA '07, studied abroad together in Beijing during their junior year, they left knowing that they wanted to return to China. 
Upon graduation, Kyle moved to Shanghai to teach. Jamie had a corporate job in Washington, D.C. for a while before deciding that it wasn't for her and moving to Xiamen, China to work as a food writer. The two reconnected and decided to start a business together in Shanghai. 
Both recalled hearing the age-old advice that success comes with doing something about which you are passionate and decided that they wanted to love what they do. Jamie loves to eat. Kyle loves to run and eat. Both love finding off-the-beaten-path places and sharing their findings with friends and family. 
These shared passions led them to start UnTour Shanghai, an urban adventure tourism company specializing in unique and personal day tours, including jogging sightseeing tours, culinary tours, and cultural excursions. Jamie serves as the Chief Eating Officer while Kyle serves as the Chief Running Officer.
Jamie recalls that her first dinner in Beijing was a bad experience. She didn't speak the language and couldn't order, and the person who was ordering for her party decided to play a practical joke on the group. She wants to help others avoid that experience and to take the guesswork out of eating well in Shanghai.
"I know how intimidating it can be," says Jamie, of traveling to a new city and trying to partake in the local foods without speaking the language. To avoid this and help tourists get off on the right foot, UnTour Shanghai provides all its customers with a welcome package that includes restaurant and dish recommendations in the neighborhood.
UnTour Shanghai offers a schedule of weekly public tours as well as several options for private group tours. All tours have a limited number of spaces, as Jamie and Kyle aim to keep them intimate and personalized. 
December 1 will mark the two year anniversary of UnTour Shanghai. Both Jamie and Kyle are excited to celebrate the milestone and look forward to what the future holds for the company they're growing together.