Alumni Success Story
Non-stop News and A Heart for Helping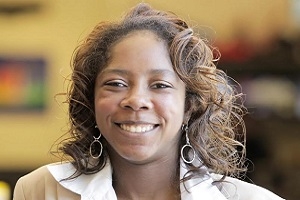 Janell Lewis, SOC/MA '06, is an alumna whose passion and drive are evidenced by her impressive honors. Her energy and ambition have earned her the titles "Top 5 Under 40 Citizen," and "Young Professional on the Move" as well as winning an award for dedication and service to the community from the local Courier Eco-Latino newspaper in her former home, Columbus, GA. She has even been nominated for an Emmy. She is currently in Lawton, OK, assisting in the KSWO Channel 7 News transition into a Raycom Media company.

Janell's work in the news and media industry stems from an unquenchable desire to be informed on issues and know what is going on around her first. But more than just wanting information for herself, Janell wants to be part of informing others about what is going on in their community and their world. It is that get-up-and-go attitude which has yielded her such great success in her field.

Despite all of her success in news, Janell says that she is most proud of her work as a mentor, especially with young people. She started a local non-profit chapter of the National Association of Black Journalists (NABJ) in Georgia and has worked with several other organizations, including the NAACP and Big Brothers, Big Sisters. Through these organizations, she has had the chance to talk to students in elementary school through college and had the opportunity "to inspire, empower, and encourage, to give people someone to look up to and to show them that they can be successful." With the NABJ she has been able to mentor students through college and sometimes even into their first journalism jobs. She says that getting into journalism, especially in places like DC can be incredibly difficult, but Janell loves to encourage people and see them succeed in getting these tough positions.

When Janell came to AU, she says that she maintained good relationships with her professors, made sure they knew her career aspirations, and allowed them to help her achieve those goals. This is the same advice she has for students hoping to pursue a media career, "have good relationships with your professors and do internships." She says that "The best way to figure out what you want to do is to do it."

It's easy to see that Janell has been running full speed ahead, and she doesn't plan on slowing down anytime soon. Right now, Janell is looking into starting her own business for event planning, and hopes to do media consulting.