Alumni Success Story
Jasmine Stringer Wants You to Seize Your Life
Why Oprah is a fan of this AU alumna's lifestyle mantra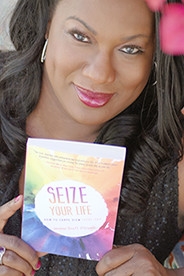 Jasmine Stringer, Kogod/BSBA '01, was at a crossroads. When a corporate downsizing left her home after establishing a career in sales, she began to reexamine her skill set and talents, considering how they could help her create a nontraditional professional path. That's when she began the journey that inspired her new book, Seize Your Life: How to Carpe Diem Every Day (Wise Ink Creative Publishing, 2016).

"'Seize your life' and 'Carpe Diem' has been my mantra since I was in high school. It's come to mean so many things to me…I think we all know that life is short and things can change for the better
or worse in the blink of an eye," she says.

As an alumna of AU's Kogod School of Business, Jasmine learned valuable skills that allowed her to morph her mantra into her own personal brand. "I wanted to go to school in a metropolitan area, so [it was easy] to see myself at American University," Jasmine says. "Since I was interested in business from high school, I followed the public relations and advertising track in college." This concentration allowed her to jump on then-developing trends like social media, which she began speaking about during her turns as a corporate speaker through her professional career . "When I was in college, social media wasn't around, so when I spoke about it, that was groundbreaking…I think [in the world we live in now] things are changing very rapidly, so if you're hungry and you're flexible there are so many things to be seized, she says.

As Jasmine developed her personal mantra into a brand, people began to take notice. In the last couple of years, she's been contacted by several top-tier companies to speak about subjects like networking in the era of social media and reinvention in the softer side of business. She became a lifestyle expert on CBS' affiliate station in Minneapolis. Then, she lived her dream when Oprah Winfrey profiled her in O, the Oprah Winfrey Magazine. After years of admiration for Winfrey's work, Stringer attended one of Oprah's Life Class tapings. "I thought I was dreaming when Oprah, at the close of the show, asked, 'Where's Carpe Diem? Where's Jasmine? ' Was Oprah really referring to me? I raised my arms and frantically screamed, 'I'm here! ' and Oprah responded, 'I'll see you back stage.' After meeting Oprah in Houston I had the opportunity to have lunch with her. Our lunch confirmed the power of manifestation. There is power in want."
You can experience Jasmine's mantra for yourself. Seize Your Life: How to Carpe Diem Every Day is available now. Visit carpediemwithjasmine.com to learn more.