Alumni Success Story
Climate Change Expert Morgan '92 Advises World Leaders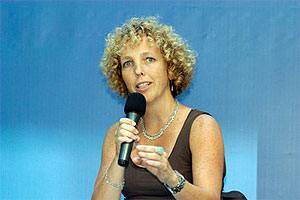 As a girl, Jennifer Morgan, SIS/MA '92, wanted to be a farmer. Her environmental awareness grew in high school through camping and other activities. But it was a book she found in the SIS Davenport Lounge that turned Morgan's interest in environmentalism from casual to inspired: Fighting for Hope by Petra Kelly, SIS/BA '70, founder of the German Green Party, "changed my life," says Morgan.
"I read it from cover to cover," says Morgan, who directs the Climate and Energy Program at the World Resources Institute in Washington, D.C., creating green policies with several world leaders. She advised former British Prime Minister Tony Blair in his initiative 'Breaking the Climate Deadlock' and served as senior advisor to the German Chancellor´s Chief Advisor, Hans Joachim "John" Schellnhuber in 2007 during the G8 Summit.
At age 17, Morgan spent two months in Switzerland as an exchange student and decided she wanted to study international relations. "Swiss teenagers knew so much more about international relations than American teenagers. It really opened up my mind," she says. 
A graduate of Indiana University with a BA in Political Science and Germanic Studies, Morgan spent a year in Germany as a Bosch Fellow from 1996-97. "I was drafting Angela Merkel's speeches—she was environment minister at the time. I learned so much from that experience."
She joined the World Wildlife Fund (WWF) in 1998 - now renamed the Worldwide Fund for Nature outside of the United States - and headed its delegation to the Kyoto Protocol climate negotiations, formulating and advocating international climate change policies and acting as WWF's chief climate change spokesperson.
Once she landed at AU, Morgan was able to bring together her personal interests with the political. "My focus was environmental politics, which was an emerging area."
One of her favorite professors: Dean Olson. "He blew my mind," she says of Olson, who taught International Relations and challenged his students with theory. "My first semester was intimidating, but I also felt I had come home."
Morgan is proud to have heard alumna Petra Kelly speak twice at AU while Morgan was a student. Later, around the same time the Berlin wall fell, Morgan met her idol briefly at a dinner. But she laments she didn't get a chance to tell Kelly the effect she had had on her (Kelly died unexpectedly in 1992 at age 44).
Surely, Kelly would be proud to know her fellow alumna Morgan has established herself as an advisor to world leaders.
A Japanese fan that says 'SAVE KYOTO' written across it hangs in Morgan's office from her time leading the Global Climate Change Programme for WWF. "I added the letter 'D' when we got back from Japan, so it reads SAVED KYOTO," she laughs. It functions to keep her motivated and is a reminder of what she's accomplished.