Alumni Profile
SPA Alum a Networking Catalyst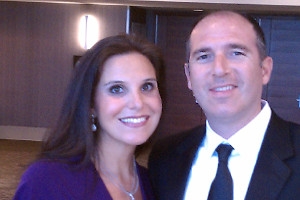 Jess Sadick, SPA/BA '94, founder of Down4Lunch.com, had the idea for a lunch networking platform when he was an undergrad. Doing internships each year at AU, he was convinced that when it comes to career advancement, who you know comes before what you know.
Down4lunch.com is a professional networking platform that gets users capitalizing on their lunch hour to create new relationships. "It's a solution where people can network with people they've never met," Sadick says, "And one of the best times to network is during lunch."
Members of Down4Lunch create a profile online where they describe themselves and the type of person they wish to meet, and then set up or accept lunch meetings. Afterwards, they may write a review of their lunch partner and recommend them to other users. The site also includes a blog offering tips in networking.
 "Early on when we started, people would see people in their career field," says Sadick. "Well, you can't think so narrowly about networking. I'm sure that you and I, even though we're in different fields, will have plenty of friends who can help each other."
Sadick has enjoyed positive feedback right from the get go. Shortly after its launch in 2011, urbandaddy.com praised the site, calling it "a career catapult" and "Match.com for power lunchers." Nevertheless, new plans and developments for the site are already underway.
In the future, Sadick will keep the individual platform available, but transition his focus to an enterprise platform. Companies and organizations will be able to use Down4Lunch to foster networking among their own employees. "If people collaborate more, you can have better products. It can lead to new ideas," he says.
Sadick considers the best part of founding Down4Lunch the "satisfaction of creating something that didn't exist" and seeing people enjoy it. Sadick had previously worked in intelligence with the FBI and the State Department and recalls that he never felt a sense of impact from his work. "Here the impact is clear," he says.
Sadick also founded ClearedCommunity.com, which educates users about federal security clearances for various types of employment. He lives in the D.C. area with his wife and newborn daughter.