Alumni Success Story
Koutsandreas '50: Military Man, Scientist, and Proud Alumnus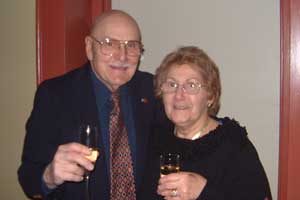 Those who knew John Koutsandreas, CAS/BS '50, growing up probably weren't too surprised by his success later in life. After graduating from Eastern High School in Washington, D.C., as president of his class and of the student council, he came to AU on an academic scholarship in September of 1946 and began his academic work as a double major in physics and mathematics. "I just couldn't sit around and do nothing," he recalls. "Back then I thought I could conquer the world."
In 1948, Koutsandreas joined the Marine Corps Reserve following in the footsteps of his father, who fought in WWI, and his brother, who fought in WWII. In June 1950, he left for Korea, where he fought in two battles and his unit was awarded the Presidential Unit Citation. To this day, he feels that staying in the Marines for 33 years and becoming a colonel is one of his greatest life accomplishments.
Koutsandreas' next adventure involved working with the Naval Research Lab and then NASA on remote sensing devices to track shocking environmental changes over time in "all terrestrial regions, including our planet's oceans, rivers, mountains—all of it." As a result, his interest in environmental issues – especially climate change – spiked, and eventually led him to become  one of the original scientists at the EPA when it was founded in 1970.
Recently, Koutsandreas was called out of retirement to consult on the BP oil spill. The EPA wanted to use his knowledge of remote sensing to track the movement of oil through the gulf. The spill has affected the water a mere 100 miles from his Florida home in Panama City. "Nature has a way of cleaning itself up, but this damage is extensive," he says. "It's going to take at least five years before anything starts to appear normal again." 
This fall, Koutsandreas plans on leaving Panama City, and returning to Gaithersburg—just in time to attend his 60-year class reunion at AU. When he's not advocating for the environment, or enjoying his retirement—visiting with grandkids, playing golf—he's helping plan his 60-year reunion for October's All-American Weekend Celebration.

As a proud volunteer on the reunion planning committee, he's dedicated to making it a great event. He looks forward to running into old classmates, and reminiscing about the League of Nations intramural football team, and going to chapel every Thursday. 
"Reunions are some of the most wonderful things. You run into old classmates and they say, 'Wow you've changed,' and you just reply 'Gee whiz, you've changed too!"