Alumni Success Story
Alumni Board Member Follows
Instincts to Successful Career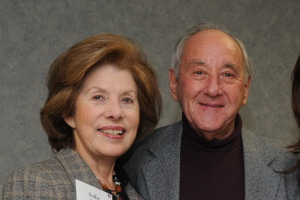 As a student in the Kogod School of Business at AU in the 1950s, Jonah Gitlitz, KSB/BS '55, never imagined the prolific and fulfilling career in journalism and direct marketing that would follow his graduation. Raised in the Bronx, he only knew two things: 1) he did not want to take over his father's successful kosher deli, and 2) he loved to write. 
"But you follow your instincts," says Gitlitz. Those instincts guided him toward a professor at AU who helped him secure a position as a reporter with Broadcasting & Cable magazine, whose publisher had a son and daughter attending AU. "As I was going through the interview process, that connection didn't hurt," says Gitlitz.
After several years as a reporter and editor, Gitlitz took positions first at the National Association of Broadcasters and then at the American Advertising Federation, where he served as the executive vice president for 12 years.  A major accomplishment was helping to develop the successful advertising self-regulatory program, the National Advertising Review Board. Jonah took his career in a new direction when the Direct Marketing Association recruited him to head their D.C. office.  "I thought direct marketing was just about catalogs, but I learned it was so much more."
 After just three years, he became president and CEO and served in that capacity until his retirement twelve years later in 1996. When the epitome of direct marketing, Lillian Vernon, called and asked him to serve on the board of directors of Lillian Vernon Corporation, he agreed, which then turned into a two-year stint as president of the company.
Truly retired since 2002, Gitlitz stays busy with his family (wife Sallie, two children, and five grandchildren), synagogue activities, and frequent involvement with AU. Although not terribly involved as an undergraduate, he has become something of "super alum," serving as the chair for his 40- and 50-year reunions and holding positions on the National Leadership Council, President's Circle Council, Alumni Board, and as a judge for many years for the Kogod Gartenhaus Financial Case Competition. "I'm a big believer in momentum. The more you do, the more you can do."
Why does he stay involved? "It has been wonderful to see how the university has grown in stature. The opportunity to meet faculty members, alums, student, and staff through AU activities has been fantastic. Also, people need a support system in life. When you have a comfortable relationship with your alma mater, that's a meaningful connection."