Alumni Success Story
An Unexpected Turn Leads to A Prosperous Career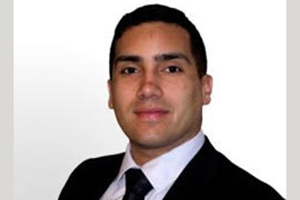 Though his degree is in international relations, Jonathan Muniz, SIS/BA '14, ended up taking an unexpected job at IBM in the corporate business world, though it was not what the recent graduate had in mind. 
Jonathan did not have prior experience in business, but he felt as if his AU education prepared him to excel at this job. Jonathan works as a portfolio marketing manager for the Enterprise Social Business team at IBM. 
"As an SIS major, the last thing I thought is that I would end up in the business field. That all changed when I was fortunate enough to land the role at IBM through a contact. When it comes to marketing, most people start out as a marketing associate or a marketing analyst, etc. At IBM, a portfolio marketing manager has a great deal of responsibility and many of my colleagues have been in marketing for over 20 years. This left me with an opportunity I could not ignore and, as a result, I jumped in head first and never looked back." 
At IBM, no two days are the same for Jonathan, which makes him love the job even more. 
"As everyone already knows, IBM is undergoing a complete shift in the way that is conducts business. As a result, my day includes a lot of learning about the new work of marketing. Marketing is changing so fast as the world increasingly shifts to digital. In addition, I often communicate with the Offering Management team, Sales, Performance Marketing, Executive leaders, Social Media team, etc. I am also responsible for our web pages and often project manage changes to those pages."  
While Jonathan loves the work he does at IBM, the people who work alongside him are what makes the job worth doing. 
"The best part of working at IBM in marketing has been the people I am surrounded by. I cannot say enough how impressed I am with their knowledge and experience. I am very fortunate enough to be able to work and learn from them on a daily basis," he says. While he is currently only months into the MBA program at the University of Rochester's NYC location, he has goals in sight. "My goal is complete my MBA within the next two years and lead a team at IBM," he says. "I am still early in my career and think education is one of the most important things to target right now. The technology sector of business moves so fast that it is easy to be left behind. Education ensures that you remain important." 
For Jonathan, parts of AU have stuck with him and provided him with a lesson that he uses each and every day. He says, "I think most students feel that it will take years to rise and accomplish their goals, especially Hispanic students like myself. I would like to try and give them a different viewpoint. You don't have to spend years building up experience; AU has given everything that you need to succeed now."