Alumni Success Story
National Journal's Kiely '08, Thrives on Buzz of People, Politics, and Journalism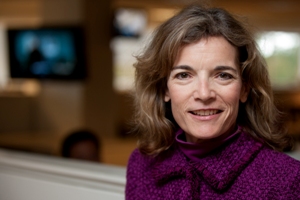 Kathy Kiely, SOC/MA '08, loves a challenge, and starting as managing political editor at the National Journal mere weeks before the recent tumultuous 2010 mid-term elections was just that. Also an adjunct professor at AU's School of Communication, Kiely is a proud political wonk who has covered politics for more than 30 years. But it's less the policy and more the people that interest her.

When Texas elected six Republican representatives during the 1984 election, it marked a turning point in the Lone Star state's political landscape, which had previously been heavily democratic. Kiely interviewed and wrote a story on the six freshmen representatives, cleverly named the "Texas Six-Pack."

She also made a prescient observation to her boss: "I think we'd better keep an eye on this Tom DeLay guy. He seems like a pretty good politician." DeLay would later go on to become the Republican House Majority Leader in 2003 before allegations of money laundering would lead to his electoral defeat in 2004.

"Politics is all about people. You get to see them change in ways that are really unexpected," says Kiely. "Seeing people when they start out and watching their careers evolve makes it really fascinating… It gives you insight into personalities. It's like watching a Shakespearian play. You get to see these human dramas played out across a very big stage."

Despite all her experience and expertise, Kiely decided to pursue her master's degree in Interactive Media at AU as she saw the media landscape rapidly changing and knew she had to stay sharp to stay competitive. A self-declared "huge believer in lifelong learning," she enrolled in one of AU's weekend master's programs, which allowed her to continue working full time.

Another factor in her decision: "AU has taken advantage of being in Washington in two ways: It has brought people from the sphere of Washington to the university; it's made Washington a resource. But it's also reached out to Washington and enabled Washington to avail itself of the university."

Kiely suggests current journalism students, "To be a good journalist and a good communicator, you have to be broadly curious and open to new ideas, and that will make you a better communicator and a better writer. It's that openness that enables you to accept and, in fact, embrace the fact that you're not going to ever really master this field. There will always be something out there for you to learn."

Given her success, students – of all ages – would be wise to heed her advice.