Alumni Profile
"Ketching" Up with AU Alumna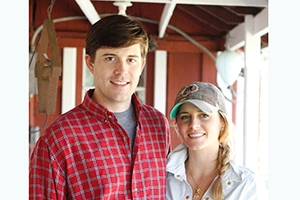 For most, ketchup and tomatoes have become synonymous. Kori Hill Wallace, SPA/BA '06, has other ideas.
Kori and her husband Matt created 'Chups, a line of fruit-based ketchups that expand well beyond the common tomato-based sauce. "A fateful night of turkey burgers, because Matt cannot make just turkey burgers, turned into a ketchup experiment when he set out to rid our fridge of an abundance of cherries," said Kori. "Well, needless to say, it was a successful experiment. We were still thinking about the cherry ketchup months later." After doing some research and discovering the history of ketchup originally included many different bases, Kori and Matt decided to take their idea into business. 
After working out some recipes and testing them on family and friends, Kori and Matt started a Kickstarter campaign in 2014 to move their business forward. Calling it the perfect way to officially launch their business, the campaign was successful and 'Chups was able to grow. "We immediately moved into Union Kitchen [following the Kickstarter campaign], the food incubator in Northeast Washington, which has been an immeasurably effective resource for us," said Kori. 
Now over a year in business, 'Chups sells blueberry, pumpkin, and plum flavored ketchups. Although the flavors are unique for ketchup, the D.C. community has embraced this new take on the classic condiment. "We've loved the reception from the D.C. community!" said Kori. "There is always a bit of a learning curve, being that tomato ketchup is such an old American food staple and is ingrained into minds at a young age. But once customers hear the story and taste the flavors, it's an inexplicably rewarding feeling when the look of skepticism turns to a look of happy wonderment and you know this person's ketchup game has just been forever changed."
Kori says her experience at AU was a significant factor in her ability to succeed as an entrepreneur. "AU certainly gave me all the tools, academically and socially, to be confident and ambitious in a leadership role," she said. Her connection to AU has also provided new business opportunities for 'Chups, including a recent collaboration with Scratch DC, founded by another AU alum, on a meal delivery box. 
'Chups is sold in various locations in D.C., including Whole Foods Foggy Bottom, Union Kitchen Grocery, and Little Red Fox. To buy the product or find a complete listing of all places where 'Chups are sold, visit chupsitup.com.