Alumni Success Story
Alumni Board Member Larry Pockers '96 Shines In and Out of the Courtroom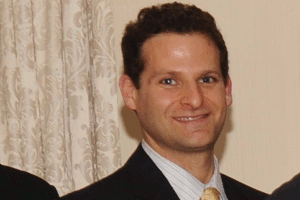 Dedication to service is a cornerstone of an American University education, and Alumni Board member Larry Pockers, SPA/BA '96, embodies the AU spirit of service. Although not one to brag, Pockers has plenty to be proud of, including a successful legal career and a long history of volunteerism.
Pockers is a partner who focuses his practice on commercial litigation, with an emphasis on non-competition and trade secret disputes, at Duane Morris, a 700-plus lawyer, Philadelphia-based firm with offices across the country and around the world.
"I'm a trial lawyer by trade. It's not as glamorous as it looks on TV. On TV they don't show you the countless hours that are spent at your desk… They only show you the part where the lawyers are actually in court. That's only a small part of it, unfortunately, because that's the fun part."
Like many college students, Pockers wasn't quite sure what to do after graduation. A course with Professor Christopher Simpson on law and the media during his junior year piqued his interest in the law. After AU, Pockers attended Temple University Law School, where he graduated magna cum laude in 1999.
For nearly his entire legal career, Pockers has performed pro bono work for the Support Center for Child Advocates, an organization dedicated to providing free legal and social services to abused and neglected children in Philadelphia. In addition to the cases he handles for the Support Center, Pockers serves on the Volunteer Committee of the organization, assisting with recruitment and support for attorney volunteers. He explains that "the Support Center helps to fill an important gap in the criminal justice and family court system, ensuring that kids' voices are heard in cases of abuse or neglect."
He also is heavily involved with the local chapter of the American Red Cross, where he was recently appointed to the Penn-Jersey Region's Board of Directors and is chair of the Philadelphia Legal Initiative, a semi-annual blood drive among firms and legal organizations in the city.
Not to be forgotten, Pockers serves the AU community as a member of the Alumni Board. "It was a combination of the people, the school itself, and the atmosphere" that led him back to AU, he says. "American had everything I was looking for and lived up to all of the expectations I had… The university is such phenomenal place, and a couple of years ago I was looking for a way to give back... One thing led to another, and next thing I know, I'm on the Alumni Board, and I'm chair of the Outreach Committee."