Alumni Success Story
2009 Rising Star Award Winner Produces Career in Hollywood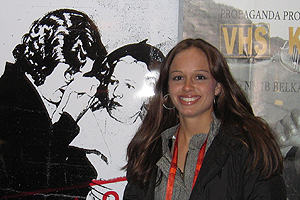 Lindsay Webster, SOC/BA '03, this year's Alumni Association Rising Star recipient, has a difficult time finding one answer as to her biggest career accomplishment thus far.
Just six years out of college, Webster has distinguished herself not only as an outstanding young professional, but as one dedicated to addressing important social issues. Her resume speaks for itself: associate producer on Showtime's The L Word, a revolutionary look into the lesbian community; co-producer of Girl 27, a documentary about a young woman raped at a 1937 MGM sales convention that was nominated for best documentary at the world-renowned Sundance Film Festival 2007; and developer and producer of My Address: A Look at Gay Youth Homelessness, an online documentary series about gay youth homelessness that showed at the Provincetown International Film Festival in 2008.
Growing up in Toledo, Ohio, a career in film and television production was never on Webster's radar. "I'm sometimes embarrassed to admit that I wasn't one of those kids who knew from age six that she wanted to work in film," she says. "[Actress] Katie Holmes grew up in Toledo and went to my rival high school, which is about as close to Hollywood as I got."
Although she had planned to attend art school after graduation, Webster began looking at American when she realized, "that what I most enjoyed about art was using it to construct a narrative. I chose AU because of its then-new Multimedia Design and Development program, which combined everything I liked – fine arts, writing, traditional communication studies, and digital media – into one discipline."
Webster's interest in film as a career was ignited as a sophomore during a class in video production. A year later, Professor Laurie Scheer's Writing for Visual Media course sealed the deal and inspired Webster to take part in SOC's Summer in L.A. internship program. "I still name Laurie's class as the reason I'm in Los Angeles today," says Webster. "She helped put together the summer internship program that year and made the idea of working in Hollywood sound more realistic."
It turns out Webster's L.A. internship was with Hollywood producer Barry Josephson, SPA/BA '78, whose credits include FOX TV's Bones, and films including Enchanted, Like Mike, and The Ladykillers. Working with Josephson cemented Webster's decision to work in film production. "I left knowing I would be back as soon as I graduated," she says. "It's not an overstatement to say that AU really launched my career."
During her senior year, Webster participated in SOC's alumni-student mentoring program. She was paired with Danielle Gelber, SIS/MA '82 , senior vice president of programming at Showtime.
After graduation in December 2003, Webster moved to L.A. and met again with Gelber, who helped connect her to Ilene Chaiken, the creator and executive producer of The L Word, which was about to air its first season. A few weeks later, Webster secured her first job as Chaiken's assistant. "The rest is history. I worked my way up to associate producer on The L Word and continue to work with Ilene today, now as a producer on the recently announced Showtime reality series, The Real L Word: Los Angeles."
Webster's steady rise in the entertainment industry, and her commitment to important social issues, make her well-suited to receive the Rising Star Award, given to alumni who have received their undergraduate degree within the past 10 years and are already making significant contributions to society through professional or philanthropic work.
"It sounds cheesy, but I think about AU a lot," she says. "I read about what AU grads are doing around the world and the accomplishments of past recipients of this award, and I hardly count myself in their company. So to have AU think of me is an incredible honor and extremely humbling."
Count yourself in Lindsay's company when she and the other alumni award winners are honored at the Port & Politics reception during Alumni Weekend: The Whole '09 Yards. Registration ends soon.