Alumni Profile
Metro Communications Chief Says There's "No Average Day"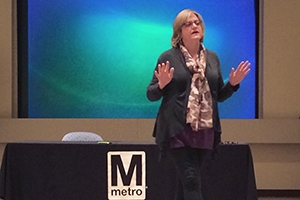 Lynn Bowersox, SOC/BA '85, feels like she's come full circle since her time at AU. "When I was at AU in the '80s, we dreamed of having our own red line station," she says with a laugh. Now, of course, the Tenleytown-AU Metro stop is an integral part of the AU student experience.
As assistant general manager for customer service, communications, and marketing at Metro, Lynn is especially excited about the UPass program introduced at AU last year. "It demonstrates the leadership of President Kerwin," she says. "It helps to give students a practical way to really use the laboratory that is Washington, DC." (The UPass program allows students unlimited use of the Metro rail and bus systems during the academic year.) "So many of us came here because we wanted to be in this city," she says. "The connectivity of Metro is to me a unique extension of the experience. Once again, AU is a leader. It has always understood the importance of public transportation to its mission." 
Lynn herself takes Metro to the office each morning. Once there, she says there is no such thing as an "average" day. Her work includes overseeing day-to-day communications for bus and rail service, providing good customer service, responding to riders on social media, and oversight of the system's call center. She also manages responses to media. Most exciting of all, she says, is that "We're doing a lot of cutting edge stuff in expanding the use of technology, our presence in social media, and digitizing advertising to help keep fares down."
Despite her busy days, Lynn makes a point to get back to campus – and into the classroom – every semester. She visits to speak in SOC's public communication courses, saying "students have given me great ideas when I talk through challenges and ideas about Metro. I always have fun." In fact, she recently hired a full-time employee who started as an intern at WMATA after Lynn spoke in his class. "It's great recruiting ground for interns and for entry-level hiring," says Lynn, who especially loves sharing her workdays with fellow Eagles.
Lynn finds her work and her opportunities for involvement on campus complement one another and leave her feeling proud of what she does. "There's no other job where you get to affect the quality of someone's life twice a day," she says.